Published September 23, 2020
read
OneRep vs. BrandYourself review: which service is right for you?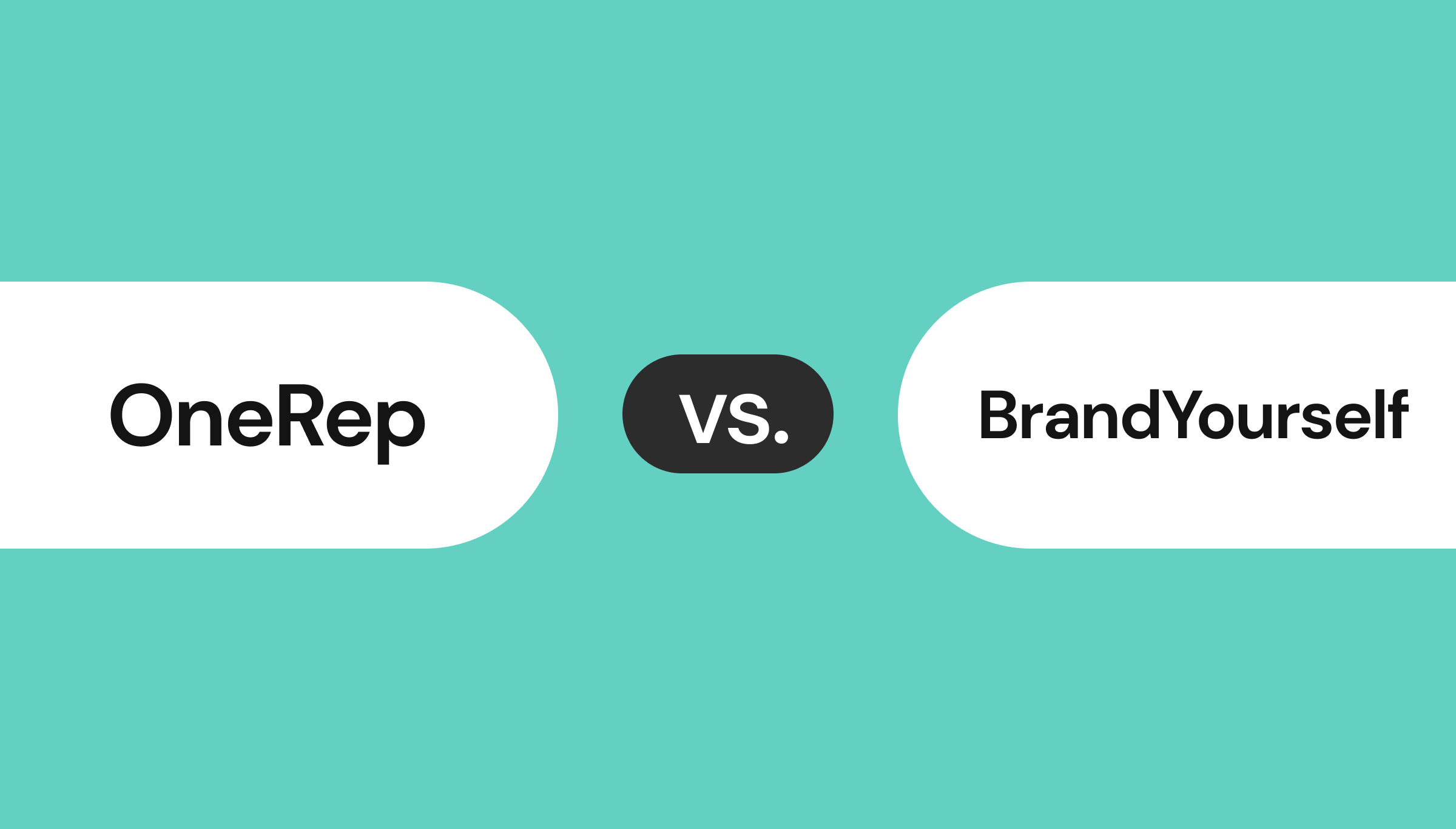 Quick takeaway
If you are looking for ways to boost your online visibility and improve your online reputation, BrandYourself might be a good choice for you. If your goal is to find and remove all of your private records published by all people-search sites, choose OneRep.
I'll start with a disclaimer: I am the CTO at OneRep and was OneRep's first developer back in 2015 when we started building the tool allowing people to bulk-remove their unauthorized profiles from the internet. Back then, this kind of service was unaffordable for most people. The private consultants and small firms who provided it spent days doing the job manually.
People needed a more affordable solution to fix their privacy breaches. The only way to provide such a solution was to fully automate the daunting work needed to find and remove listings on numerous sites. We were the first company to build such a solution. We've been improving it ever since.
These days, other companies, such as BrandYourself, advertise similar functionality as part of their services. Below, I'll briefly compare OneRep against BrandYourself.
Comparing OneRep and BrandYourself is easy if you ask yourself these questions:
Do I want to remove myself from all sites that publish my info?
Do I need to remove myself from Google?
Can the tool find all of my records and distinguish them from the records of other people with similar names?
Do I want to remove myself from all sites that publish my info?
Number of websites from which the tool removes personal listings:
| OneRep | BrandYourself |
| --- | --- |
| 199 | around 90 |
The numbers above are self-explanatory so I won't elaborate much on them. I'll just say that there are over 100 active people-search sites around the web. OneRep routinely finds upwards of 150-200 records for any given person on those sites (one site may contain more than one record of yours) — and removes them all, completely restoring your online privacy. We are on a mission to remove private records of our users from absolutely all sites that violate people's privacy. That's why, apart from covering all major well-known sites, we also have a system to spot new people-search sites once they appear. This is essential because these new sites pop up frequently and can quickly grow to millions of monthly visitors.
Do I need to remove myself from Google?
The first thing people do when they want to find information about you is Google you. According to SimilarWeb statistics, 7 in 10 visitors come to people-search sites by clicking a link to a person's profile on the Google search results page. This means that in order to stay private you need to make sure that Google doesn't store any links to any of your unauthorized profiles in its database. Can you achieve this? — The answer is "Yes" if you use OneRep, and "Not really" if you use BrandYourself. To understand why, you need to know how Google stores your information. Google database stores links to dozens of your listings on various people-search sites.
When someone Googles your name, Google first shows your listings on the most well-known websites, such as WhitePages, Spokeo, BeenVerified, Truthfinder, Intelius and several others. Once you remove yourself from these well-known websites, Google pulls up other websites from further down its search results. You might have never heard of such companies as ClustrMaps, SearchPeopleFree, or CheckThem, but they still reveal volumes of your data and get millions of visits from Google every month.
Once you remove yourself from the 1st tier sites, Google will start showing your listings on those 2nd and 3rd tier sites. BrandYourself claims to "identify and remove your personal data from some of the most common data broker and people-search sites". Unfortunately, this is not enough to remove yourself from Google. OneRep is able to find and remove your information from 199 sites. This is the best way to prevent Google from exposing your information to people on the internet.
Can the tool find all my records and distinguish them from records of people with similar names?
Why is this important?
Reason 1 – Exclude other people's records from your results
To be able to recognize your listings among dozens and hundreds of listings of other people with similar names, your privacy tool should be able to filter out those irrelevant listings. The more details about yourself you can provide, the less likely you will end up paying for the removal of someone else's listings.
Reason 2 – Find records with outdated information about you, e.g. listing your previous location
People-search sites do not update their databases in real time. You can move to another location, but a number of sites will keep listing your previous address as your current one for months and even years. If you are unable to add your previous addresses into your account, a number of your listings will remain undetected and will not be removed.
OneRep's advanced filtering technology allows complete exclusion of all irrelevant listings from your search results and location of all your listings. Here is the comparison of the data points you can add into each tool:
OneRep

BrandYourself

First name

First name

Last name

Last name

Date of birth

Age

Location
(city, state)
Location
(city, state)
Addresses
(current and previous)
Phone numbers
(current and previous)
Aliases
(e.g. maiden name, name variations)
Your privacy is our only focus
BrandYourself positions themselves as a reputation management company with a focus on personal brand and reputation. Privacy protection is just one of their services provided as part of a bundle.
At OneRep, we've always been focused on one thing, and one thing only — building the technology that finds and deletes ALL of your unauthorized records from sites that publish them. The mission that has driven us all these years has been to democratize privacy. I am proud that OneRep technology made privacy protection affordable for thousands of people and helped them beat people-search sites.
If your goal is privacy, don't hesitate to sign up now. And when you're satisfied with your results, drop me a line to share your privacy protection experience with OneRep.
Why choose OneRep
100% automated service; no manual actions required
There is no other service that can remove records from 199 people-search sites
Users can add as many previous addresses as needed to find and remove all records published on people-search sites
Advanced filtering system excludes irrelevant people from scan results
Trustworthy and transparent service with an 8-year track record.