Published November 8, 2021
read
OneRep review: OneRep VS. DeleteMe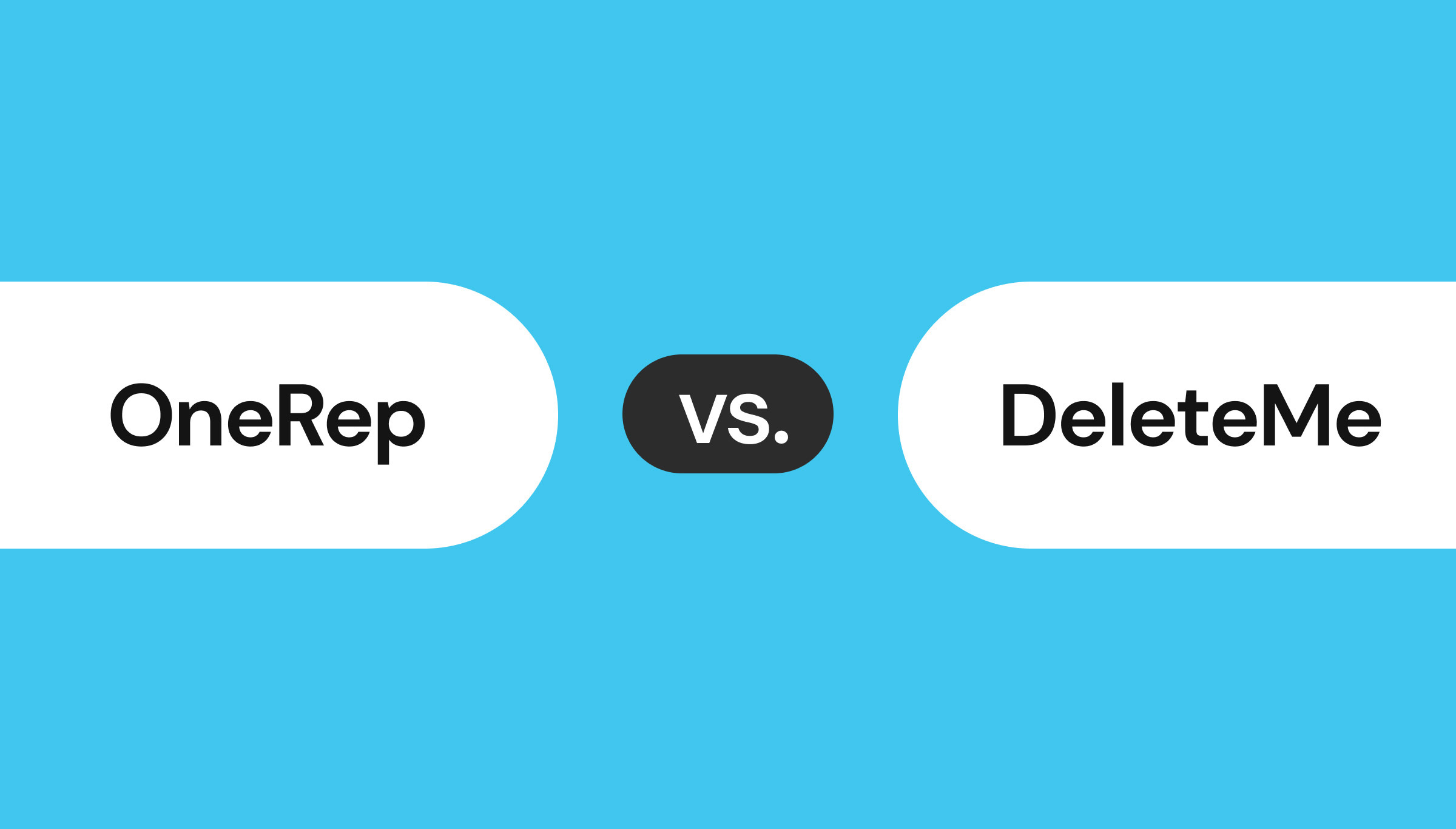 If you've never removed your personal information from a people-search site, chances are you're currently vulnerable to identity theft, doxxing, spam, or reputational harm. That's where OneRep and DeleteMe come in. But which service will work better for your specific needs? Read on to learn more about both.
Quick takeaway
If you're looking to find and remove ALL of your private records from the maximum number of data broker and people-search sites, and therefore clean up Google search results for your name, OneRep's fully automated removal from 199 sources is a fast, comprehensive, easily trackable and affordable way to do it. OneRep's competitor offers a different approach – the service removes private information from around 50 and the removal is performed manually by DeleteMe privacy representatives.
Why trust our review
Hi, I'm Mikalai, the CTO of OneRep. As I already mentioned here, I was part of a small group of individuals who started OneRep back in 2015. At that time, there were only two ways to remove your information from people-search engines: spend weeks and months going through various sites' opt-out procedures or pay thousands of dollars to privacy consultants and reputation management agencies who would do the work for you.
So we set off with a clear idea – give people an affordable tool to reclaim their online privacy. What we built was the first fully automated service that opts you out of the largest number of people-search sites that's technically possible.
Now, there are other players in the privacy space as well, each with their own take on removing personal information. For instance, DeleteMe applies a manual approach. DeleteMe alternatives like BrandYourself and ReputationDefender focus on managing online reputation and boosting internet visibility, and provide opt-out of people-search sites as part of their offerings only.
So how do OneRep and DeleteMe measure up? To answer, I'll dwell on a few important questions that people should ask when choosing a privacy service:
Which service removes me from a greater number of sites?
Which service is better for removing my information from Google?
Which service is a better value for money?
Which service removes you from a greater number of sites?
Number of websites from which the tool removes personal listings:
| OneRep | DeleteMe |
| --- | --- |
| 199 | around 50 |
DeleteMe's Pricing page doesn't specify the exact number of websites each plan covers, so you need to navigate to the 'Sites We Remove From' page. This one is tricky: while it states that your information is removed from 580+ data brokers, if you read the small prints under the data brokers list, you will realize that the actual number of sites a Standard plan covers is around 50 only. Removal from more sites is only available for VIP, Business Gold and Platinum clients. The prices for these plans aren't openly available on DeleteMe's website.
If the privacy service that you use searches for your information on only 50 sites, chances are high that a significant share of your records will go unnoticed and continue to compromise your privacy. The statistics of OneRep users at the initial scan stage shows that:
at least 20% of people are found on 74 sites.
at least 50% of people are found on 60 sites.
at least 80% of people are found on 49 sites.
As for OneRep, it covers 199 data broker and people-search sites. Because new websites appear all the time, w expand our coverage as new sites spring up. This is an important part of our service because it enables us to be on top of things and remove all of your unauthorized listings as soon as they are published.
Which service is better for removing your information from Google?
It is important to understand that neither OneRep nor DeleteMe removes your information from Google or other search engines directly. After all, Google is not the source of its search results; it simply organizes content that other websites create.
To remove something from Google, you need to remove it from the original source. That's exactly what OneRep and DeleteMe focus on. Both services opt you out of data brokers and remove your listings from the pages of those sites. As a result, these listings disappear from Google.
The difference between OneRep and DeleteMe in regards to removing your information from Google is that on its standard plan DeleteMe focuses on the most known people-search sites, so-called major data brokers, while OneRep removes listings from the same major data brokers PLUS a long list of less known sites that spring up like mushrooms and follow the business model of Whitepages and MyLife.
Google will indeed stop showing your major data broker results once they are removed, but it will immediately pull up and expose your information from lesser-known but not less problematic sites like TruePeopleSearch, SearchPeopleFree, CheckPeople and dozens of others.
Long story short, the more people-search sites you can remove your information from, the stronger your privacy will be on Google – so if you have to choose between 199 and (around) 50 sources, go for a bigger number.
Which service is a better value for money?
OneRep vs. DeleteMe pricing
A simple comparison of annual individual plans shows a significant difference between DeleteMe and OneRep. A DeleteMe plan costs $129 annually, per person, to have your records removed from around 50 websites, whereas a OneRep user will pay $99.95 per year to delete their data from 199 data brokers. That comes out to $0.50 per site for a OneRep plan and $2.58 per site for a DeleteMe plan.

Also, the OneRep family plan is a wiser choice if you want to protect your whole family including your siblings and senior parents. DeleteMe offers a yearly subscription for two at $229 as well as an annual family plan for four at $329. At OneRep, we provide protection to a group of up to six people for as little as $179.95 per year.

Another advantage of OneRep's subscription is that you can subscribe to a monthly plan just to test things out and see if it works for you. Rest assured, you can cancel your membership at any time so there's little to no risk. And if you decide our service is worthwhile, you can always upgrade to an individual or family annual subscription and save money in the long run.
This table summarizes the key points for OneRep and DeleteMe's offerings.
| | OneRep | DeleteMe |
| --- | --- | --- |
| Free trial period | Yes, 5 days | No, not available |
| Billing | Monthly or annual | Annual or bi-annual |
| Price | Starting at $14.95/mo. or $99.95/year | Starting at $129/year |
| Price per person in a group membership | Starting at $4.66/mo. or $30/year | Starting at $82.25/year |
| Price per data broker* | Starting at $0.50/year | Starting at $2.58/year |
| Number of covered websites | 199 | around 50 |
| Family plan | Yes, for 6 people | Yes, for 4 people |
| Privacy status report | Monthly updates | Quarterly updates |
DeleteMe data quoted from the DeleteMe Privacy Protection Plans page, August 2023.
* Price per data broker is subject to fluctuation based on the exact number of websites we cover.
Let's sum it up
Both OneRep and DeleteMe protect your privacy by removing your personal data from people-search sites. The difference lies in the number of covered sites, efficiency in the removal of your information from Google, and the value you get for your money. OneRep covers more websites, scans the web automatically thus allowing us to keep prices low, protects more people under one subscription, and repeats the scan every month to ensure timely removal and comprehensive protection.
Why choose OneRep
8-year track record; more than 6M consumer public records removed; 450,000 satisfied users.
Executive-level protection at regular price.
Removal of your records from over 199 people-search sites which effectively removes your personal information from Google.
Fully automated service; no manual actions required. When humans sleep and make mistakes, OneRep technology works relentlessly 24/7.
Users can add as many previous addresses and name variations as needed to find and remove all records published on people-search sites (including those with outdated information).
Trustworthy and transparent service – track your removal progress in real time and see exactly what you pay for.