Published February 26, 2019
read
Onerep review: Onerep VS. ReputationDefender
We continue analyzing how Onerep differs from other competing services. Today's article will tell you more about ReputationDefender. The evidence collected will show you that even the pioneer in the online security industry has to improve a lot in order to stay afloat.
As with all articles in this series, the criteria for our comparisons include:
How many name variations, addresses, aliases, telephone numbers, and emails are included in each search?
How easily is it to follow self-removal instructions (if they are provided)?
Which people-search sites are included for each service?
Which service offers customer service and dedicated support?
Does the service include in-depth removal from an extended list of websites?
Does the service offer competitive pricing and a variety of membership options?
Your satisfaction is important to us. Our goal is to help you make the best possible decision when selecting a service to help you protect your online privacy. To be able to make an informed decision, please also see the other reviews in the series:
Who is ReputationDefender and what do they do?
ReputationDefender is considered to be the oldest online privacy company in the industry. It was created to provide digital privacy solutions and online reputation management for both businesses and individuals. Moreover, they've positioned themselves as leaders and pioneers in the online privacy industry.
Which service removes more addresses, phone numbers, names and AKAs?
What's interesting about ReputationDefender, is they offer two levels of privacy protection: Privacy PRO, aimed at personal privacy, and Executive Privacy, offering several levels of advanced protection. The table below highlights the differences between all ReputationDefender and Onerep plans. 
Onerep

ReputationDefender
Personal Privacy
ReputationDefender
Executive Privacy
Name variations

Unlimited

2

5

Covered addresses

Unlimited

2

5

Covered telephone numbers

Unlimited

2

5

Covered email addresses

Unlimited

2

5
You'll notice, virtually all of ReputationDefender's plans have limits on what they'll cover, while Onerep offers unlimited protection and removal of your private data. Onerep believes customers shouldn't have to pay a premium for an online privacy service that only offers limited protection. ReputationDefender only removes your most current online records, then pushes off the responsibility of removing any remaining entries to YOU, the paying customer. What sets Onerep apart from other online privacy companies, is we delete not only your most recent personal records, but also out-of-date information too – everything's included, no matter what subscription plan you choose. Onerep believes in tying up loose ends, because you just never know what information can compromise your privacy or good reputation. Why take the risk?  
Onerep or ReputationDefender. Which is more affordable?
According to ReputationDefender's mission statement, "everyone has the right to be empowered online — whether that means controlling the spread of your personal information or the way you are portrayed to others".
Indeed. Everyone does have the right to be empowered online, but not everyone can afford ReputationDefender's exorbitant pricing.
Onerep believes online privacy shouldn't cost an arm and a leg or run you into financial ruin. It's just common sense; yet, ReputationDefender didn't seem to get the memo. Just look at their ridiculously exorbitant pricing structure:
Onerep

ReputationDefender
Personal Privacy
ReputationDefender
Executive Privacy
Monthly subscription

$14.95

$9.95

–

Annual subscription

$99.95

$99.00

Starting at $1.000
Onerep vs. ReputationDefender – How many websites are included for each service?
It's essential for customers to know exactly what sort of information is covered and removed by their online privacy provider. Equally important, is knowing the exact number of people-search sites covered by the service you choose; do they cover just the most prolific sites, or are less known sites included as well? Some people-search sites are very well-known, conducting millions of background reports each year, while others are less prominent, but still pose a serious threat.
To learn the truth, Onerep contacted ReputationDefender via anonymous live chat and asked them to provide examples of the websites they cover. Not surprisingly, ReputationDefender refused to provide this information via chat and suggested we call them instead. They made it seem as if this information was strictly confidential, and even a paying customer didn't have the right to know what it was. Why? Shouldn't you know what you're paying for?
Alright, we decided to play their little game and called ReputationDefender directly. With some persistence, we were finally able to pry a little information from them and learned that Privacy PRO members get automatic removal from 18 websites, which include, Spokeo, BeenVerified and PeopleFinders, the most common data brokers.
Furthermore, we went an extra mile and purchased a 1-month subscription to see how the service works. We also wanted to check how user-friendly the dashboard is. Have a look at the screenshot below.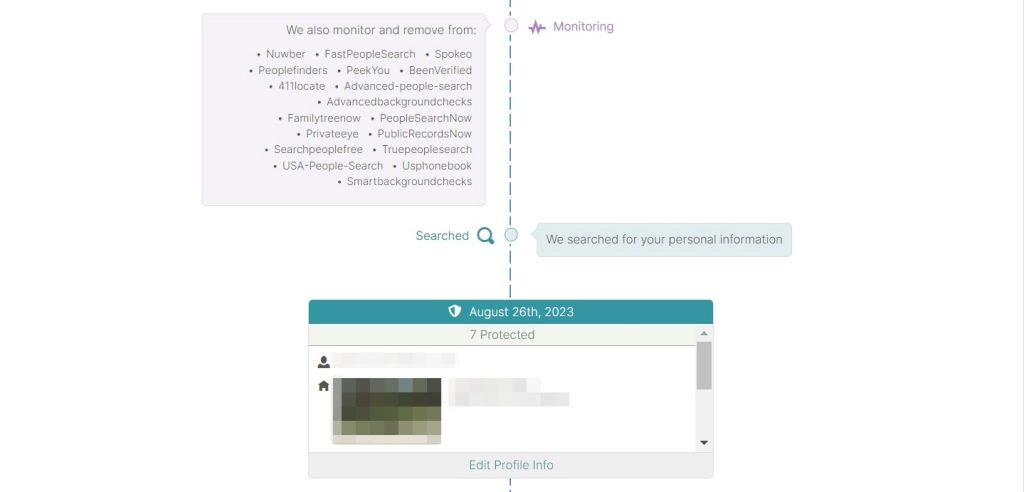 ReputationDefender asked to provide some personal data based on which they were able to find only 5 websites. However, they didn't specify what websites in particular. Again the subscription costs $9.95. For comparison, we managed to find 24 websites about the same individual. And you know exactly where your data was removed from and when.
Still, it is not clear what is the purpose of these circles located on the middle line in the screenshot. The text near them doesn't provide any useful information. It seems like ReputationDefender is simply trying to give relevance to their job, making you believe that for $9.95 they do a lot. In fact, they don't.
But there is one small issue. Once you've paid for Privacy PRO you get access to your personal dashboard. One of the pages in the dashboard is called "Additional Protection". Have a look at the screenshot of the page.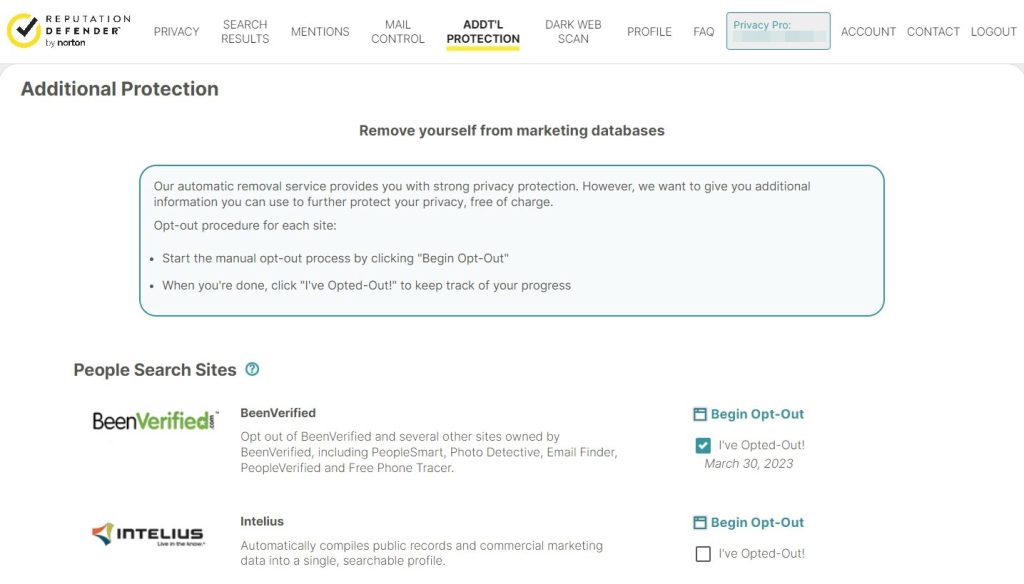 So, according to ReputationDefender they "want to give you additional information you can use to further protect your privacy, free of charge".
At first, we thought they provide at least some opt-out instructions or even do the removal by themselves. We've never been so wrong…
After you click on the orange button "Begin Opt-Out" you are simply redirected to the opt-out page of these websites and proceed with the removal process by yourself. Nevertheless, ReputationDefender focuses on the fact that it helps you and does it for free. In fact, it does nothing in this particular case.
Meanwhile, ReputationDefender offers 4 Executive Privacy Plans:
Essentials ($1,000/y)
Select ($2,500/y)
Preferred ($7,500/y)
Premium ($10,000/y)
The Plans guarantee advanced protection and delete profiles from 25+ people-search websites. However, when we asked for details about the 25 sites included, ReputationDefender again refused to offer any specifics. So in effect, you're paying a hefty premium and just have to go on blind faith. Does that sound fair to you?
Onerep removes your personal information from 199 websites for $14.95/mo ReputationDefender covers fewer websites for $1.000
Onerep believes our customers have the right to know what they're paying for. We remove your personal data from 199 people-search sites, and you can find a complete list of all of them on our "Sites we cover" page. We didn't just compile a list of the most common websites that expose your records, but went the extra mile and expanded our search to include a host of secondary websites in order to offer you the most comprehensive protection possible. 
Customer support
ReputationDefender provides support via live chat, email and phone. To test the quality of their customer service, Onerep contacted ReputationDefender's support team several times via live chat and received identical scripted responses each time. Then we contacted them via email on 3 separate occasions, asking completely different questions each time, and again, we received 3 identical email responses from their support representatives. Did they even read our emails? It's as if ReputationDefender's support team has been coached to send the same scripted replies no matter what the customer asks. They don't care about listening to your needs, all they want is your money.
Onerep believes personal privacy is a serious matter, and we don't play games with our customers' lives. We never send scripted responses. Onerep respects our customers enough to offer personal, one-on-one support, that meets all of our customer's unique needs. 
Onerep offers free phone, email and chat consultations – we're here for you whenever you need us. Just leave us a message and phone number, and we guarantee you'll receive a callback within a few hours; often immediately.
Can I remove my personal records myself?
In short, yes. But if you dig deeper, you'll realize it can be a very daunting and time-consuming process that will test your sanity and patience. Even if you don't subscribe to our service, you have the right to contact the various people-search sites directly and request the removal of your personal data. Your private records are your own and don't belong in the public domain. It's just flat wrong. Some online privacy companies offer limited self-opt-out instructions, others offer no instructions at all. But what about Onerep and ReputationDefender?
Onerep offers FREE self-opt-out instructions for more than one hundred websites. Our comprehensive instructions are quite detailed and include screenshots to help you navigate the opt-out process for the most popular people-search websites. 
By contrast, ReputationDefender offers one article that briefly covers opt-out processes for only 11 data brokers.
Let's sum up!
Onerep

ReputationDefender
Personal Privacy
ReputationDefender
Executive Privacy
Monthly plan

$14.95

$9.95

–

Annual plan (for one person)

$99.95

$99.00

Starting at $1.000

Number of covered websites

199

15+

25+

Covered emails

Unlimited

2

5

Covered names

Unlimited

2

5

Covered addresses

Unlimited

2

5

Google dead link requests

Yes

–

–

Self-removal guides

Yes

–

–