Cultivating safe workplaces means protecting vulnerable groups online
August 26, 2023
Iryna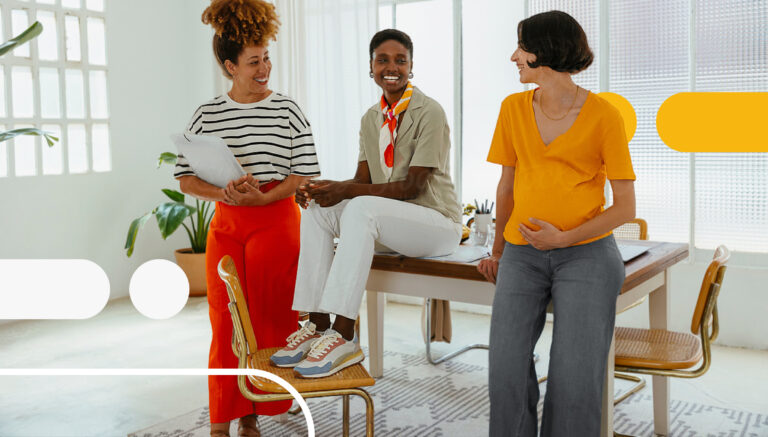 In today's rapidly changing workplace, Diversity, Equity, and Inclusion (DEI) initiatives are viewed favorably by 56% of US adults, according to the Pew Research Center. For younger workers, this number is even higher. Research by the job site Glassdoor found that 76 percent of Millennials and Gen Z candidates said "a diverse workforce was important when evaluating companies and job offers," including accommodating people living with disabilities, minority and ethnic groups, LGBTQ+ individuals, and other marginalized groups.
At the same time, business leaders see DEI as key to their long-term success and high employee retention, as diverse companies are more innovative, creative, responsive, and hence more attractive for long-term work than their more homogenous counterparts.
To put it another way, creating workplaces where employees feel safe, included, valued, and respected is not just a matter of compliance. It's a fundamental aspect of promoting employee well-being and business productivity.
Understanding the impact of data exposure on marginalized groups
In an increasingly digital-first environment, with personal data exposure and the privacy risks associated with it being on a record-breaking rise, the internet is as dangerous as it can ever be. In these circumstances, online privacy becomes critical for the safety of all—ethnic minorities, LGBTQ+ individuals, people with disabilities, women, and other groups and individuals.
Women, in particular, feel less safe online than men, with one-third of young women interviewed by the Pew Research Center reporting having been sexually harassed on the internet. A study of journalists conducted by UNESCO shows the global scale of the problem and finds that 73 percent of women surveyed experienced online violence, whereas 20 percent said that they had experienced physical attacks or had been abused offline in connection to online abuse.
Social media is a toxic environment, and this is especially true for marginalized groups. While 41 percent of US adults have personally experienced online harassment on social media, LGBTQ+ people "experience severe harassment more than twice as much as heterosexual people." A recent study by Thorne found that LGBTQ+ youth are reportedly three times more likely to experience harm and abuse online than their non-LGBTQ+ peers. Similarly, evidence points to offline vulnerabilities, including rising violence and incidents of assault against the queer community.
Such threats jeopardize an individual's safety, well-being and livelihood, and can extend from the workplace to other environments and vice versa. More specifically, trans individuals may experience problems in their work lives related to deadnaming and the fear of previous name exposure that can hinder their job opportunities and create the ground for employment discrimination. Besides workforce exclusion, LGBTQ+ people in public-facing roles often attract unwanted attention and can be at risk of abuse due to their sexual orientation, gender identity, or intersex status.
Simply put, marginalized people face a wide variety of safety issues at work when their personal privacy is violated, including direct discrimination, personal attacks, different types of harassment, doxxing, blackmail, revenge, not being able to find work, and many more.
These risks are largely associated with the online exposure of personal information not authorized by the affected individuals for public use but collected and shared through people-search websites, endangering people's safety in the process. The amount of information gathered and sold by these privacy-breaching entities is astounding—besides full names, dates of birth, phone numbers and addresses, these sites store marriage and divorce records, details about relatives, data pulled from social media accounts, and much more. Armed with this information, anyone can be a threat—a colleague, an unhappy customer, a stranger.
The role of employers in ensuring workplace safety
With the abundance of safety concerns and ways through which personal data can end up on people-search sites and the internet, this issue transcends the realm of personal problems and becomes a pressing challenge for employers.
To respond adequately, employers require innovative solutions for protecting vulnerable individuals and fostering a safer workplace for everyone.
OneRep offers much needed services to remove employees' personal information from the internet, extending protection to all employees (and their families) who can fall prey to personal attacks due to personal data exposure. Our three-step removal program empowers individuals to regain control over their personal information and shield themselves and their loved ones from online harassment, doxing, swatting, physical threats, and other attacks.
By offering privacy protection to their workers, employers play a significant role in both providing a secure work environment for employees and fostering diversity and productivity in the workplace.
Safeguarding vulnerable groups by protecting privacy online
Addressing the root causes of violent behaviors and discrimination against vulnerable groups often reveals the availability of personal information on the internet and its exploitative use. Restoring online privacy by minimizing this information is key to safeguarding all workers, including ethnic minorities, LGBTQ+ individuals, people with disabilities, women, and other groups and individuals. Besides improving employees' personal safety and livelihood, it allows employers to reach such long-term goals as employee loyalty by making companies friendlier, more inclusive, and thus more attractive places to work for.
Take a step towards creating a better workplace. Contact OneRep to explore our data privacy services and start protecting your employees and company.
To learn more about the impact of data exposure on marginalized groups and the importance of online privacy in fostering secure, inclusive workplaces, listen to the 2nd episode of the OneRep podcast featuring Elisa Stampf, Founder and CEO of Insure Equality, a 501(c)(3) non-profit dedicated to making the insurance sector a more welcoming place for everyone.