Published November 16, 2023
read
22 Amazon scams to know and avoid in 2023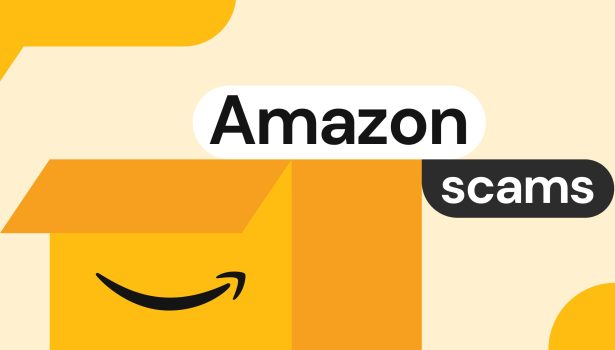 Amazon is the largest online retailer in the U.S., commanding more than 37% of the online retail market and boasting global revenues in excess of $352 billion. The e-commerce platform's progressive focus on convenience, speed, and pricing attracts 197 million users each month and up to 60,000 orders per minute from the U.S. alone. Unfortunately, such immense popularity also makes the retail giant a honeypot for scammers. Here are the 22 most common Amazon scams in 2023, plus how to recognize and avoid falling victim to them.
What is an Amazon scam?
An Amazon scam is when fraudsters attempt to access your Amazon account, steal your money, convince you to share your private information, or pirate your orders.
In many cases, scammers impersonate Amazon to trick their victims by using their personal information taken from data brokers or exposed through data breaches. If they succeed, scammers could:
Install malware on your devices that spies on your activities and steals your sensitive data, login credentials, financial data, and even your personal photos and videos
Gain access to your Amazon and other online accounts to make purchases in your name – and on your dollar
Swipe your Amazon packages or have them redirected to their addresses
Steal your identity and access your bank accounts, credit cards, and payment apps to steal your money
Sell your personally identifiable information (PII) on the dark web, where other scammers could use it to commit more crimes
Falling victim to Amazon scams can wreak havoc on your finances and personal life. And even though Amazon works to thwart such scams – in 2022, the company helped take down more than 20,000 phishing sites and 10,000 phone numbers – the onus is on you to be vigilant and avoid becoming a victim. That starts with becoming familiar with the many types of Amazon scams out there and how to spot them.
22 most common Amazon scams
Here are some of the most common Amazon scams and how they work.
1. Hacked accounts
Hackers use various tactics to access your Amazon account, including:
Smishing, vishing, and phishing attempts
Spyware and keyloggers
Password cracking software
Email hacking
Data breaches
Once they have access, scammers can:
Make purchases on Amazon and other websites (if you use Amazon Pay)
Change the delivery address to get your orders
Change your email address, password, and phone number to effectively lock you out of Amazon – all while they can buy items with your credit cards
Hackers are savvy and may archive orders so they're hidden from your order history, making it more difficult to know when your account has been compromised.
2. Fraudulent refunds
In one of the most common Amazon scams, you'll receive an email, text message, or phone call claiming that you're owed a refund on a recent purchase. The message or caller might state that the refund is due to an overcharge or even that you're a victim of fraud.
You'll be asked to share your personal or financial information – either over the phone or via a spoofed website – to get your "refund," giving scammers everything they need to steal your identity and money.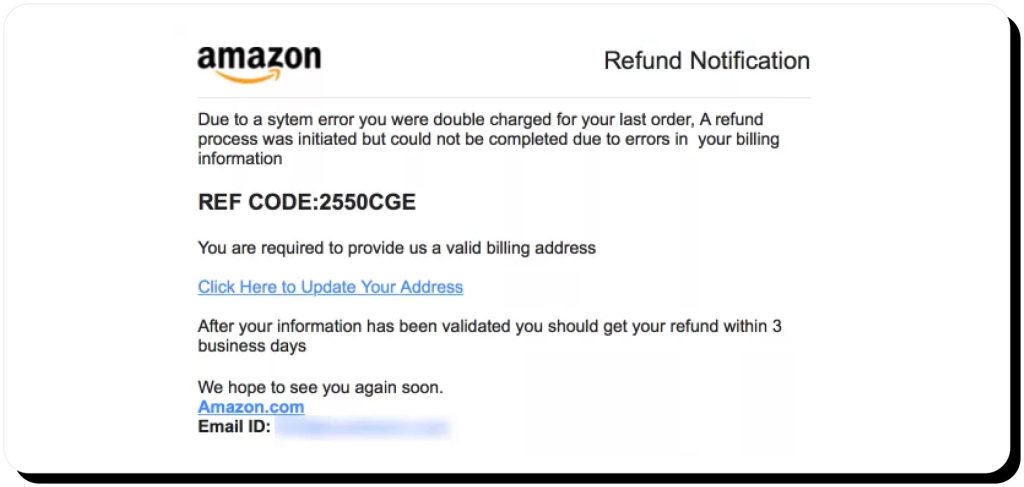 3. Tech support scams
There are a few different ways scammers can perpetrate tech support scams, including:
Security alert pop-ups or texts that state there is an issue, and you need to call for support
Malicious websites found when searching for solutions to real technology problems
Once you've called "tech support," scammers will either try to get you to pay for unnecessary support services or grant them access to your computer. Then, they can install malware to spy on your activities and steal your information.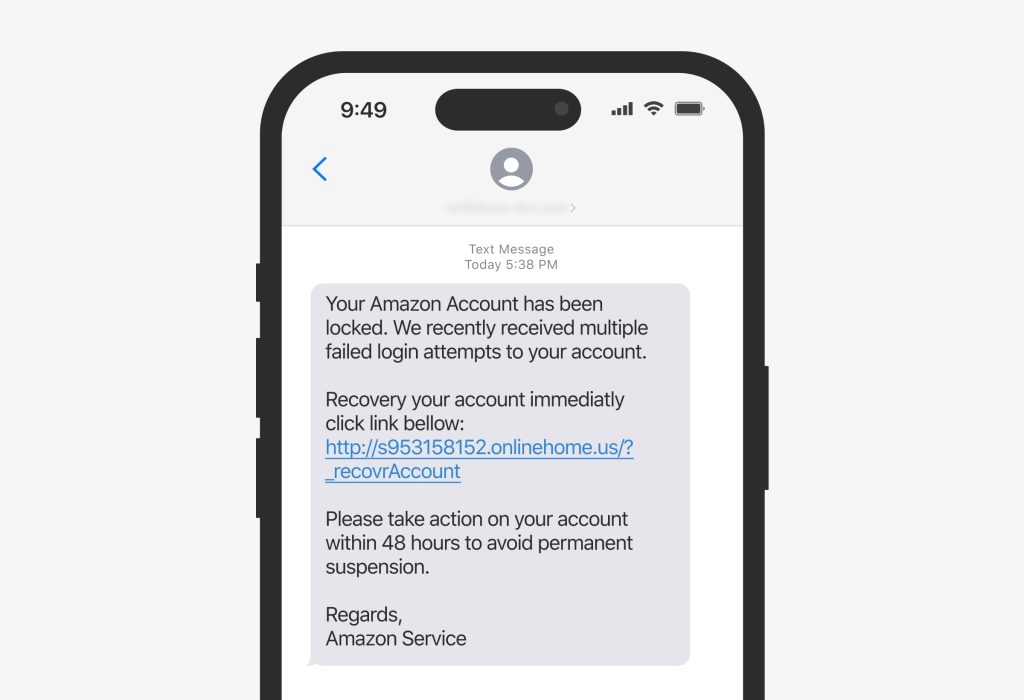 4. Brushing scams
In an Amazon brushing scam, a cheap product you didn't order will be delivered to your doorstep. There's no return address, and you can't find any evidence of purchasing the product in your Amazon account. Since the product was delivered to you, you're considered a verified purchaser, and unscrupulous sellers will submit fake reviews in your name to bolster their listings.
While getting free stuff might not seem bad, if you're a victim of a brushing scam, it means that scammers have your name, address, and potentially other PII they can use to commit other types of fraud. In addition, they're risking your reputation with fake Amazon reviews for products you might not want to be associated with.
5. Unclaimed packages
You might see social media ads stating that Amazon has authorized a third-party company to sell unclaimed lost and undeliverable packages at steep discounts. Click the link, and you'll be taken to a fraudulent website where you can "buy" unclaimed packages. In some cases, the site states what's in the package; in others, it says you'll receive a mystery box.
If you pay for unclaimed packages:
You probably won't receive anything. Even if you do, it will be a cheap, low-value item
Scammers now have your payment details and personal information
Scammers might install malware on your device
6. Mystery boxes
In this Amazon scam, a seller will list a mystery box on Amazon and state that the value of the contents far exceeds the price of the box. Sometimes, they'll offer pricing tiers, and the more you pay, the more likely you'll receive a high-value item.
What you get is decidedly different from what you expect – typically cheap, dated, or even broken items that have little to no value. Unfortunately, you also have little recourse, since you willingly purchased the mystery box without knowing exactly what was inside.
7. Unconventional payment scams
Scammers posing as third-party sellers set up fake listings. When you try to buy their products, they'll message you to request payment off Amazon's website or the Amazon app. For example, they might request a payment method such as via PayPal, Western Union, Venmo, Zelle, cryptocurrency, or even with gift cards.
Once you've submitted payment, the scammers will disappear, and you'll never receive the product you paid for. Moreover, since you paid offsite, your transaction won't be covered by Amazon Pay buyer guarantees.
8. Typosquatting
Everyone has accidentally misspelled URLs in their browsers, and scammers take advantage of this by purchasing misspelled versions of popular domains. Then, scammers create fake websites that look legitimate. For example, they might create a spoofed site at "amazonn.com" or "amazone.com."
Since the site looks legit, you could unwittingly give scammers your actual Amazon login credentials or share your credit card information.
9. Fake listings and counterfeit products
Hackers can take control of old, but legitimate, listings and change the product titles, descriptions, and pricing – but they'll leave the reviews, making it appear as though the product they're peddling is highly-rated. They'll also make a valuable item available at a steep discount.
Once you make a purchase, you'll receive one of the following:
A different product, likely dated or broken
A counterfeit product
Nothing at all
The scammers now have your money, but you don't have the product you paid for.
10. Fake Amazon prize
In this scenario, you'll receive an email or text claiming that you've won a prize from Amazon. The message might state that you were the winner in a raffle, random drawing, or some other contest you didn't sign up for.
All you have to do to receive your prize is pay for shipping – and that's when scammers direct you to a spoofed website to collect your payment information. In other versions of this Amazon scam, you might be directed to a fake website that installs malware on your device.
Either way, you're never going to see your "prize," but scammers can cash in.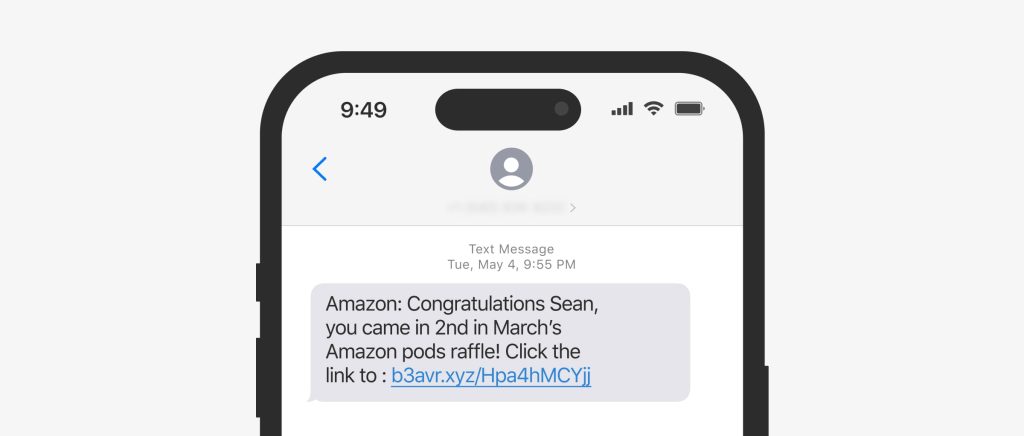 11. Amazon gift card scams
In most cases, scammers call, email, or text and state that there is an issue with your account. The only way to resolve it is to buy Amazon gift cards and share their numbers with the scammers, who promise reimbursement. Once you do, however, the scammers will disappear and use your gift cards to make purchases.
Note that there are other versions of Amazon gift card scams, including:
Scammers claim to represent the Social Security Administration and threaten arrest if you don't immediately pay a fee via gift cards
Job offer scams, where scammers claim to be Amazon recruiters offering an outstanding employment opportunity – you just need to buy a starter kit with gift cards
Family emergency scams in which scammers claim to be an attorney or law enforcement agency representing a family member who needs help, and you can help them by buying gift cards
Unpaid debt and tax scams, where scammers either state you have unpaid tax debt or that you're owed a refund, and you must buy gift cards to pay the debt or receive the refund
12. Amazon Prime Video scams
Plenty of Amazon Prime Video customers have experienced issues with activating their accounts on their Roku devices and smart TVs, and scammers know this. Though Amazon's messages clearly list the URLs where customers can get support, many people simply input those URLs into a search query (not the address bar) and unwittingly end up on fake Amazon websites.
If that happens to you, you'll likely be prompted to call a toll-free number to get activation assistance. Scammers will then state you need to upgrade your account to activate Prime Video – and they might even offer a lifetime subscription for a hefty one-time payment. They can also convince you to share your two factor authentication code or login credentials. Ultimately, there are three potential outcomes:
Scammers get your personal and payment information and can either sell it on the dark web or use it to steal your identity and make other purchases
Scammers get your "upgraded" subscription fee
Scammers get access to your Amazon account and Amazon Pay
13. Fake orders and invoices
You'll receive an email or text message from Amazon (or Amazon Pay) "confirming" an order you didn't make or stating you have an unpaid invoice. The message will include a link or phone number to click or call if you didn't make the purchase.
Since the order is fraudulent, you call the number or visit the website in a panic, and scammers ask you to share personal or account information to "verify" your identity, "reverse" the fraudulent transaction or pay the fake invoice.

14. Suspicious account activity
In this Amazon scam, you'll receive a text, email, or phone call claiming there has been suspicious activity on your account, and that Amazon has locked or suspended it. Again, scammers will try to extract your personal and financial info to "fix" the account.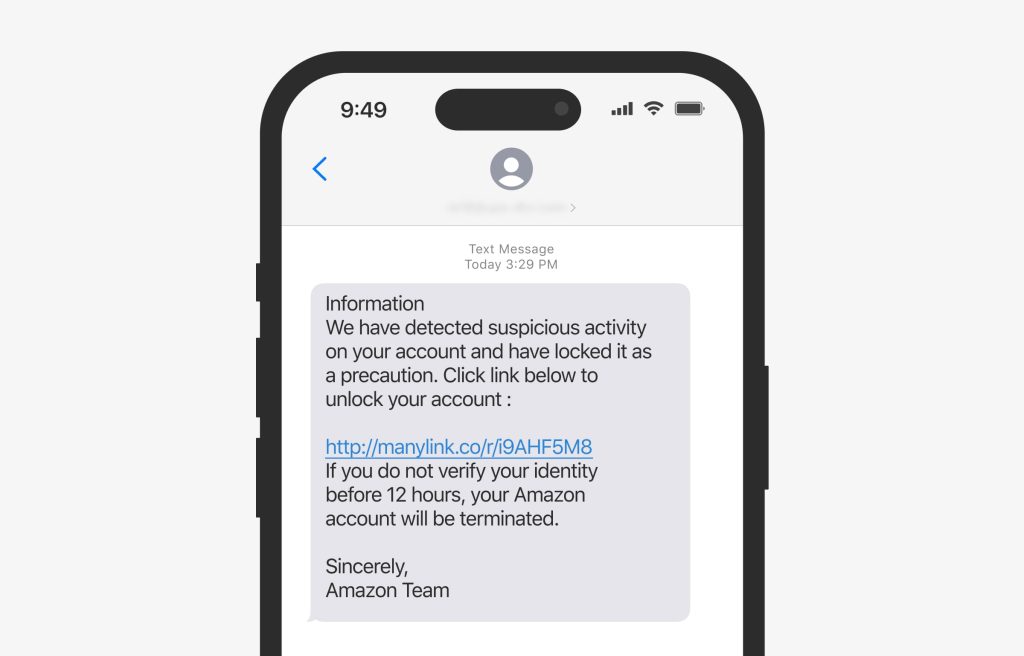 15. Failed delivery scam
You'll receive a message stating that Amazon failed to deliver your package – a good bet, since many of us are expecting a package from Amazon at any given time. The message won't say which order was affected, but it will direct you to call or visit a website to resolve shipping issues. Then, scammers will ask you to submit payment for redelivery, collect your personally identifiable information, steal your payment or account information, or install malware on your device.
16. Amazon Prime subscription renewal
In this Amazon scam, a spoofed email or text will claim that your Amazon Prime membership subscription is about to renew, but your payment information is outdated. You'll be prompted to call or visit a website to update your payment info – but you're only giving it to the scammers.
In June 2023, Amazon Prime-related phishing attempts increased by 16 times, with up to 1,500 fake Amazon websites discovered and more than 90% of those confirmed to be suspicious or malicious.
17. Review request scams
Scammers create and send phishing emails or text messages promising cash or gift cards in return for reviewing Amazon products. The scam messages include a link to sign up for the program – which usually requires your login credentials and/or payout method – giving scammers access to your personal and financial information or installing malware on your device.
18. Fake job offers
Criminals post fake Amazon jobs on well-known job boards such as Indeed and LinkedIn. If you inquire about a position, you'll be told you need to share your personal information or prompted to pay an application processing fee – giving scammers your personal and financial data.
19. Boss scam
In this scenario, scammers impersonate your boss and ask you to buy gift cards that your boss will give to employees. Once you buy the gift cards, the scammers will ask you to share the gift card numbers – giving them the keys they need to make Amazon purchases.
20. Porch pirates
In this low-tech scheme, thieves wait for Amazon packages to be delivered to your home and swipe them when no one is looking. They might wear hats and masks to conceal their identities if you have a door camera.
In a slightly more sophisticated version of this scam, scammers will order packages to your home in your name, then they'll pirate them.
21. Amazon Alexa scams
Smart home devices aren't immune to scams, and some fraudsters have targeted Amazon Alexa users with tech support and device protection scams.
These scams work similarly to the Amazon Prime Video and tech support scams, luring unwitting victims with pop-ups that claim there is a problem with their Alexa device, spoofed websites that promise to offer tech support, and fake websites that sell fake device protection plans. Some scams even use fake apps to trick Amazon customers into believing they are on an official Amazon app.
22. Amazon seller scams
Scammers target Amazon sellers with various ruses designed to steal their identities, money, or sales. Examples include fake seller account suspension messages and listing hijacking, where scammers list counterfeit versions of a genuine product at cheaper prices. The counterfeit products are displayed in sellers' Amazon Buy Boxes and Other Sellers sections. After Amazon customers buy the poorly made counterfeits, they may write reviews on the valid seller's listing. In this manner, scammers piggyback on the hard work sellers have done to promote their listings and cash out.
How to protect yourself on Amazon
Protecting yourself from Amazon scams takes not only knowing the different kinds of them out there but taking proactive measures as well. Follow these tips to avoid becoming a victim:
1. Only use Amazon's official website and app
Avoid spoofed sites by ensuring you only interact with Amazon's official website and app. Double-check that the URL you enter is correct (amazon.com), ensure any apps are developed by Amazon, and never click search engine links to "Amazon." Only buy on Amazon's platform and use Amazon Pay to maintain buyer protections. It's also a good idea to bookmark Amazon in your browser to avoid accidental typos.

2. Never reply to unsolicited emails, text messages, or phone calls
Never click or tap links in emails or texts claiming to be from Amazon. If someone calls from an unknown number or leaves a voicemail and claims to be an Amazon representative, hang up or do not call them back.
Instead, log in to your Amazon account and check your notifications to see if there is truly an issue. If you're still in doubt, contact Amazon directly through an official channel. You can report suspicious activity here or forward suspicious phishing emails to [email protected].

3. Routinely monitor account activity
Keep a close eye on your Amazon orders – including archived orders – and routinely check your bank accounts and statements from your credit card company to ensure no unauthorized purchases have been made. If you use Amazon Pay on third-party sites, you should also monitor your Amazon Pay account activity.
4. Do not share your Amazon account
It can be tempting to share Amazon accounts with family members, but that can lead to trouble if they accidentally click a link or share sensitive information with scammers. This is also true if your children have access to your Amazon account – in which case, you should set up parental controls.
5. Only pay through Amazon
Never make payments outside of Amazon, including on platforms such as PayPal, Zelle, Venmo, and Western Union. Paying on Amazon and using Amazon Pay retains your eligibility for the company's A-to-z Guarantee, which offers buyer protections when purchasing from third-party sellers.
6. Verify all transaction details
Before you finish each purchase, take a moment to verify all transaction details, including total price, shipping costs, and delivery address, to make sure there aren't any unanticipated costs.
7. Scrutinize sellers
Examine each product to confirm its authenticity before adding it to your cart and avoid a fake listing:
Check seller ratings
Read product reviews
Avoid listings with poor image quality
Avoid listings with misspellings and grammatical errors
Avoid listings with a low price for a generally expensive item
Avoid listings with unclear return policies and no return address
In addition, sellers who use Fulfillment By Amazon (FBA) and products sold directly by brands and manufacturers are typically good signs that the listings are legit.
8. Opt out of people-search sites
Data brokers and people-search sites like Whitepages, BeenVerified, and hundreds of others collect your personal information from public records and other databases, compile it into individual reports, and make them available for anyone to view and purchase. Scammers use these reports to find full names, addresses, contact details, income levels, family relations, and other sensitive data, then use that information to target a potential victim with the above-mentioned scams, break into their Amazon account, and steal their money and packages.
Unfortunately, people-search sites make it difficult to remove your information. Each has its own opt-out process, and with hundreds of data brokers on the web, it can take weeks to remove your information from all of them. Moreover, they'll likely republish your information again.
Onerep can help. Our service scans 199 data broker and people-search sites and automates the opt-out process. Then, we continually monitor each website – if your information is republished, we immediately start the removal process again.
9. Protect sensitive information
Scammers use your sensitive information to impersonate you or gain access to your online and financial accounts to make purchases and commit fraud. In some cases, these scams could even land you in legal hot water, where you have to prove you're not the person who committed the crime, and it can be difficult to recoup stolen money.
In addition to opting out of data brokers, never share your personal information via text, email, or phone, no matter who the communication appears to be from, and avoid sharing Amazon account information even with friends and family members. Never share personal information on social media and be sure to adjust your social media privacy settings to make it difficult for criminals to find sensitive details about you.
10. Be aware of deceptive schemes
There are various tactics scammers use to target their victims, but the most common means are:
Smishing (text scams): You'll receive a text message claiming there is some sort of issue with your account or order and directing you to call a number to speak with an "Amazon" representative or tap a link that takes you to a spoofed Amazon site. From there, the phone scammer or fraudulent website will trick you into sharing your PII or install malware on your device.
Phishing (email scams): A phishing email looks like it legitimately came from Amazon (or Amazon Pay) and might include an official Amazon logo and a reference code. It will usually stress a sense of urgency and direct you to either call a number or click a link to resolve the issue. From there, scammers will attempt to get your Social Security number, steal your money, access your account, or get remote access to your device.
Vishing (phone scams): Amazon phone scams work much the same way as smishing and phishing. You'll receive an unsolicited call from a scammer impersonating Amazon and claiming that there is a security problem, billing issues, or that you're eligible for a refund. The Amazon scammer will express the need to resolve the issue immediately and attempt to coerce you into sharing your PII, credit card details, or login credentials.
11. Enable 2FA and use strong passwords
Bolster your Amazon account security by visiting your Login & security page and:
Enable 2-step verification, which emails or texts a verification code to confirm every login
Set a passkey and/or biometrics: PIN, face, or fingerprint login
Create a strong password (and change it frequently)
You can use a free service such as StrongPasswordGenerator to create unique passwords that are difficult for hackers to crack.
12. Secure your devices
Secure your devices and network to stop scammers from installing malware that can log your keystrokes, spy on your activities, and steal your account information:
Install antivirus software on all your devices
Consider using a VPN to keep your connection private
Enable your firewall to keep hackers out of your network and devices
Even though installing antivirus software may seem like a very basic step, it will protect you in case you accidentally click on suspicious links.
What to do if you are scammed on Amazon
Follow these steps to protect your PII and your money if you believe you've been scammed on Amazon.
1. Secure your accounts
Change your Amazon password and enable multi-factor authentication (if it's not already enabled). If you use the same or similar passwords on other websites and apps, be sure to change those as well. Scammers know many people reuse the same passwords and will likely attempt to use your login credentials on other well-known websites, including financial institutions.
2. Notify Amazon
Next, report the scam to Amazon using the following forms depending on your situation:
Alternatively, you can contact Amazon to speak with a representative of the company's Customer Protection Review team.
3. Report identity theft to the FTC
If you believe your personal or payment information has been compromised, you should report the scam to the FTC at IdentityTheft.gov, which will also help you create a recovery plan. Alternatively, you can follow along with the recovery steps listed here, including:
Getting free copies of your credit reports and correcting any errors
Placing a fraud alert or freeze on your credit
Reporting a compromised Social Security number
4. Notify law enforcement
You should also consider notifying law enforcement. Even if they're not able to provide immediate assistance, it creates a formal record of the scam that you might need to dispute fraudulent charges.
If the scammer is from a foreign country, you can also report international scams online at econsumer.gov.
5. Dispute fraudulent charges
Review charges on Amazon, Amazon Pay, bank accounts, credit cards, and money apps. If there are any fraudulent charges, contact the company and explain what happened. You might need to produce documentation from Amazon or police reports to prove the charges aren't yours before your financial institution and credit card company will remove them.
Amazon scammers can steal your PII and wreak havoc on your finances, so follow the tips outlined above to recognize common warning signs and prevent Amazon scams.
FAQ
What do I do if I get scammed on Amazon?

If you get scammed on Amazon, do not communicate with the scammers. Instead, secure your Amazon account by changing your passwords and enabling 2FA, change similar passwords on other accounts, notify Amazon, report the scam to the FTC, file a police report, and dispute fraudulent charges.
Does Amazon notify you of suspicious activity?

Yes, in some cases, Amazon will send Security Alerts to verify your identity if it recognizes potentially suspicious activity on your account. However, note that scammers also send spoofed security alert emails. So if you receive a notification that appears to be from Amazon, log in to the official website or mobile app to confirm it's legitimate.
Can I get money back if scammed?

You might be able to get your money back if you were scammed on Amazon, depending on the circumstances. For example, if there are unauthorized purchases, Amazon may reimburse you per its unauthorized transaction policy. If you didn't receive a product you purchased from a third-party seller, you may be reimbursed from Amazon Pay via Amazon's A-to-z Guarantee. However, if you were scammed off Amazon – such as if you sent a scammer cryptocurrency, ordered via a fraudulent website, or if you ordered gift cards as a victim of the boss scam – you might not be able to get your money back.
Does Amazon have fake sellers?

Yes, there are fake sellers on Amazon who set up bogus listings to scam you out of your money. Avoid Amazon scams by keeping an eye out for red flags such as misspellings and grammatical errors, poor image quality, unusual shipping costs, and requests for payments off Amazon's platform.
Can my Amazon account get hacked?

Yes, your Amazon account can get hacked in various ways, such as if a scammer uses software to guess your password or obtains your login details via a data breach. Scammers can also infect your devices with malware that can spy on your activities and log your keystrokes to steal your login credentials.