Identity theft protection vs. Privacy protection: do companies need both?
June 21, 2022
Iryna Slabodchykava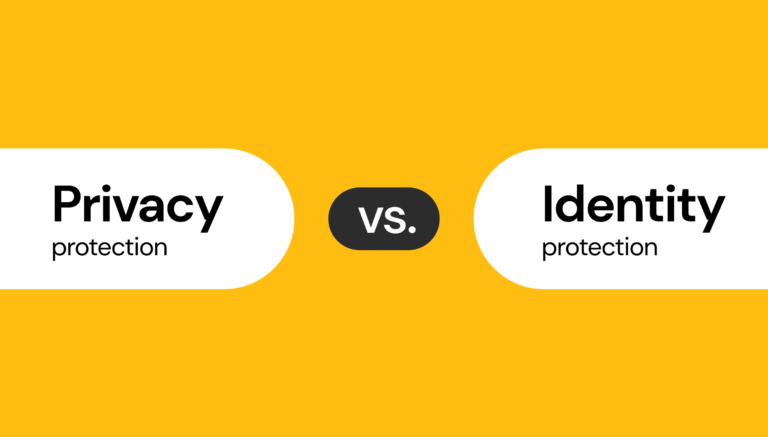 In today's digital-first business environment, companies are only as secure as their employees. Here's what businesses need to know to solve privacy and security problems they and people working for them face.
The identity theft protection services sector is a $10 billion a year industry that Fortune estimates will approach $30 billion by the end of the decade. Its rise is a response to soaring incidents of identity theft as fraud, scams, and data breaches make it easier than ever for threat actors to capture and misuse people's personally identifiable information. 
Identity theft costs companies billions of dollars annually while making them more susceptible to cyber attacks, data breaches, and other related incidents.
In response, many are enrolling in identity theft protection services that help spot and respond to potential fraud. These services work by scanning the internet for threats to their customers' identity, monitoring credit reports from credit bureaus, offering insurance and reimbursement programs, and assigning an Identity Restoration Specialist to support identity theft victims.
However, while prominent identity theft protection services, including LifeLock, Identity Force, ID Shield, and others, rely on powerful security capabilities, their efforts are reactionary, not preventative. Simply put, they don't prevent identity theft. They help customers minimize the damages and restore their life after it occurs.
Today, most identity theft protection services lack the key element needed to truly safeguard users: privacy protection. Experts agree that keeping personal information private is an actionable way to avoid identity theft. Thus, comprehensive protection can be ensured when identity theft protection and privacy protection work together.
This video featuring our privacy expert Mark Kapczynski highlights the key differences between the two and explains why their combination provides a sustainable formula for protecting both businesses and individuals.

Employee privacy protection keeps companies secure
Identity theft starts by collecting people's personally identifiable information, which is often easily accessible from a simple internet search that returns dozens of dossiers compiled by people-search sites and data brokers.
Therefore, prevention starts with restoring employees' privacy and removing their personal information from the internet.
By creating conditions for employees to limit access to their personal information online, businesses make it as difficult as possible for malicious actors to attain employee information that they often leverage in social engineering attacks, like phishing scams, that account for the vast majority of corporate cybersecurity incidents.
That's why OneRep and similar platforms should be treated as a vital add-on to even the most comprehensive identity theft protection services, bringing powerful protection for businesses and their employees by actively scanning, erasing, and monitoring 192 websites for employees' personally identifiable information.
By offering OneRep to their teams, businesses strengthen their own organization's security and eliminate threats like costly data breaches, phishing and hacker attacks happening via employees' personal information accessible online.
What do employees want?
Both privacy protection and identity theft protection are essential benefits that help to resolve privacy and security challenges businesses and their employees face. However, when it comes to preventing identity theft rather than eliminating its painful consequences for an individual, employees vote for privacy protection.
Additionally, privacy protection reduces cyber threats, social engineering/phishing attacks, fraud, doxxing, online harassment, physical threats, robocalls, and spam/unwanted marketing. Anyone feels safer when they have this kind of protection in their Employee Benefits program.
Ultimately, it doesn't matter if people's personal information was compromised at work or at home. By offering identity protection services, employers help secure their company data while supporting their employees everywhere and reducing their exposure to various privacy and safety concerns.
Unsurprisingly, employees want privacy protection. For example, one employee survey found that more than half would consider leaving a job if they felt their employer wasn't handling their data responsibly, while 55 percent wouldn't even apply for a job that didn't offer privacy protections.
What's more, with workplace safety concerns at an all-time high, privacy protection is a natural and needed next step for companies looking to support, attract, and retain top talent.
Offering privacy protection fosters loyalty and retention by providing employees peace of mind and helping them and their families remove their sensitive information and stay safe. For many it becomes even more valuable than being offered ID theft insurance and assistance in mitigating ID theft consequences.
Prevention & protection: better together
Privacy protection solutions are a highly effective step to ward off identity theft. As scams, fraud, and theft continue to escalate, it's an increasingly critical enhancement to response-oriented identity theft protection services. Both privacy protection and identity theft protection are much needed benefits that help to resolve privacy and security challenges facing employers and employees alike.
In addition to safeguarding companies and their employees from unwanted personal information online, OneRep helps businesses support their customers' privacy with an API that lets any company build customer privacy into their workflows, apps, and digital platforms. Visit OneRep to learn more.