Published October 21, 2020
read
Criminal identity theft: definition, how it happens and how to protect yourself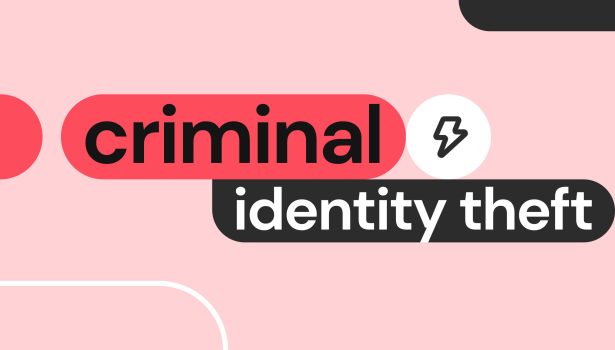 Did you know identity theft victims can get arrested for crimes they didn't commit? Here's what you can do to protect yourself.
What is criminal identity theft?
Criminal identity theft is a uniquely damaging form of fraud. Criminal identity thieves present themselves as you whenever they're arrested or cited for a crime. This is done by using your name, date of birth, Social Security number, or other types of sensitive information.
Who is at risk of criminal identity theft?
Generally speaking, everyone is at risk of criminal identity theft because we all have identity verification numbers and cards which can be stolen, compromised, and misused. However, some factors put you at an elevated risk.
Chief among them is your online presence. In our Internet-centered age, a lot of crimes begin with Internet searches. A favorite resource for fraudsters is people-search sites. These sites compile all sorts of sensitive information about you and your family — and sell it to anyone who's willing to pay.
If your information shows up on any of the hundreds of people-search sites currently active (it probably does), then you have a target on your back. You can stop identity theft by getting off the criminal's shortlist and following the tips we set out in this guide.
What are the consequences of criminal identity theft?
If someone is caught for a crime and gives law enforcement your information, it could tarnish your name and go unnoticed for years. Here are some common penalties that criminal identity theft victims experience:
How does criminal identity theft occur?
Though criminal identity theft isn't as common as some other types of ID theft, it can entirely upend your life. Here are some of the most common ways fraudsters commit criminal identity theft:
Signs that you're a victim of criminal identity theft
Criminal identity theft can be very difficult to detect. Here are some signs that you should look out for:
How do I fix criminal identity theft?
If you have reason to believe that your identity has been stolen, act immediately. Here are some actionable steps to take:
To wrap it up…
The only thing scarier than finding out that a criminal can access your bank account is getting arrested for a crime you didn't commit. Our team is here to prevent that – our tool will automatically remove your sensitive details before thieves have a chance to find them. Onerep is offering a free 5-day trial to anyone who wants to start protecting their personally identifiable information online. 
FAQ
Is criminal identity theft common?

While not as common as other forms of identity theft, criminal identity theft can have a life-changing effect on victims.
How can a victim of a criminal identity theft clear their name?

Clearing your name starts with reporting the crime to the police department in the jurisdiction where the crime occurred or, with your local police department. When this is done you can deal with fraudulent entries with affected businesses and agencies. For that, you'll need to request a copy of your police report and a letter of clearance to supply to the entities where your name needs to be cleared. You may also need to petition the court to expunge the wrongfully attributed criminal record and contact the DMV if your identity theft occurred through using your driver's license.