Published November 7, 2023
read
Prevent Google Chat scams – watch out for these red flags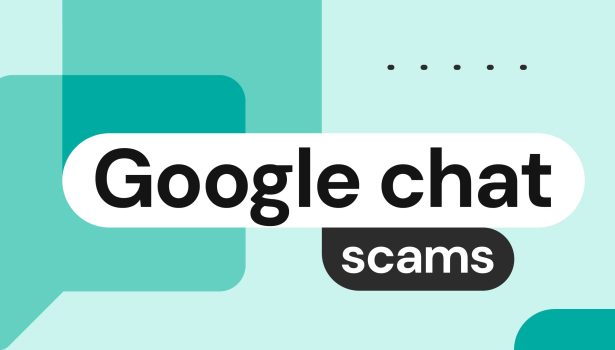 You might be surprised when an attractive or influential person reaches out to you on Google Chat. You may even suspect you're talking to a scammer at the beginning, but they'll convince you there's no risk in playing along.
Then, they'll ask for your help putting together a "business proposal", or require your help solving an urgent problem. At that point, it's hard to say no. You might recognize that you've been scammed only much later when you have already lost a great deal of money.
This kind of story plays out every day, and many people lose tens of thousands of dollars and even more by sending money to Google Chat scammers. Find out how common scams work and what you can do to protect yourself from social catfish scammers.
What is Google Chat?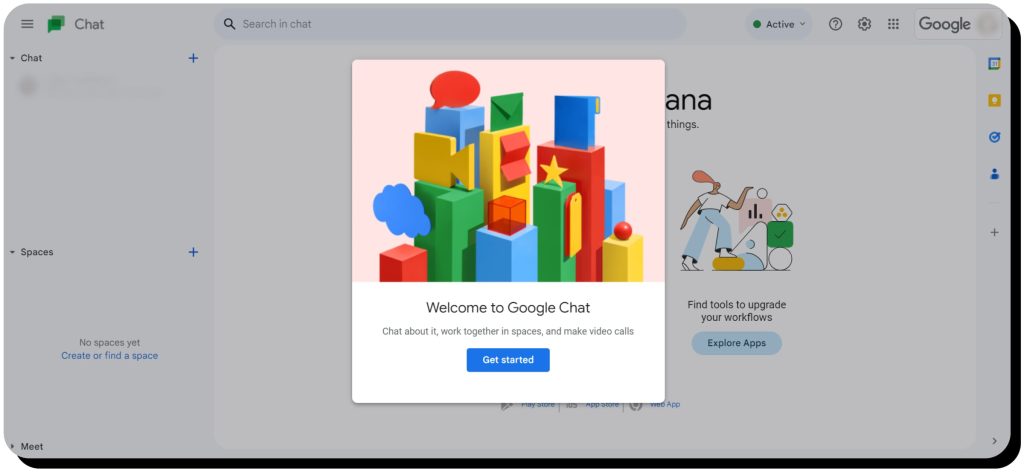 Google Chat, formerly called Google Hangouts, is a messaging app that was launched in 2013 and now has millions of users. Google allows anyone with a Gmail address to sign up for the app. But unlike other messaging platforms, Google doesn't provide enough resources to protect a person's identity from scammers.
Both Google Hangouts and Google Chat cater to an older, more professional user base. This attracts many scammers who think they can find potential victims and easy targets on the platform.
Even in the beginning, Google Hangouts scams happened mostly due to the platform having unreliable security. People quickly learned that when Google Hangouts scams happen, there is very little they can do to get their money back. Many shared personal details with fraudsters running Google Hangouts scams and became victims of identity theft.
Today's Google Chat is not more secure than Google Hangouts was. Fraudsters easily use a variety of methods to conduct romance scams, job scams, sextortion scams, and other criminal activities against unsuspecting victims.
Protecting yourself from Google Chats scams, Google Hangouts scams and identity fraud requires knowing what kinds of tricks scammers use to defraud victims. Learn more about these scams so you can protect yourself from strangers asking for money and personal data.
Is engaging in Google Chat with unknown individuals safe?
Like on many social media sites and dating sites, it can be difficult to tell whether a Google Chat user is a real person or not. Scammers create fake social media accounts that look legit and use them to build trust with an unsuspecting victim.
Not interacting with strangers is one of the best ways to avoid Google Chat scams. However, a Google Chat scammer may build multiple fake profiles of famous or influential people and use their celebrity status to make you trust them. From there, it's only a matter of time before victims send money as part of an investment or romance scam.
Similarly, job scams work by abusing the trust job candidates must place in employers during the hiring process – a legit HR manager might ask a candidate to make a phone or video call on Google Chat. You may not know the individual, but you need more information to detect online scams accurately.
However, you should be suspicious whenever someone contacts you with an urgent need or unrealistic event – even if they sound genuine. Don't trust people you meet online, including people you meet on dating apps and social media platforms, until you meet them face-to-face or verify their identity.
Top 8 common types of scams on Google Chat
Google Chat scams work the same way Google Hangouts scams and other chat scams work. Fraudsters will generally use one of the following methods to trick you into building trust before launching an attack against you.
Romance scams
Romance scams typically start on dating sites, but they can also happen on popular social media platforms. Scammers start by using fake profiles and stolen photos to attract victims. They may even pretend to live a luxurious lifestyle or come from an exotic place.
It's very common for romance scammers to try building a relationship quickly. "Love bombing" is the term used to describe the fast-paced escalation from mutual attraction to professing deep love or sending intimate photos to online partners.
If you claim to have feelings for the scammer too, they will respond with a believable story that requires your urgent attention. For example, nearly a quarter of romance scammers tell victims that someone they know is hurt, sick, or in jail – and that they need money to fix the situation.
Crypto and investment scams
Investment scams use a different approach to build trust. Instead of appealing to your emotions, scammers try to show off their wealth – and explicitly tell you they want to share it with you.
One common version of this scam is the "pig butchering" scam often run by foreign scammers. They claim to have access to a secret investment platform that offers impressive returns and show screenshots that support their story.
When you express interest, they'll direct you to a website that looks like a crypto exchange or stockbroker. This is a fake website under their complete control, but they will convince you it's real by sending you small amounts of money as "earnings". After you send a larger amount, they will disappear for good.
Fake job interview scams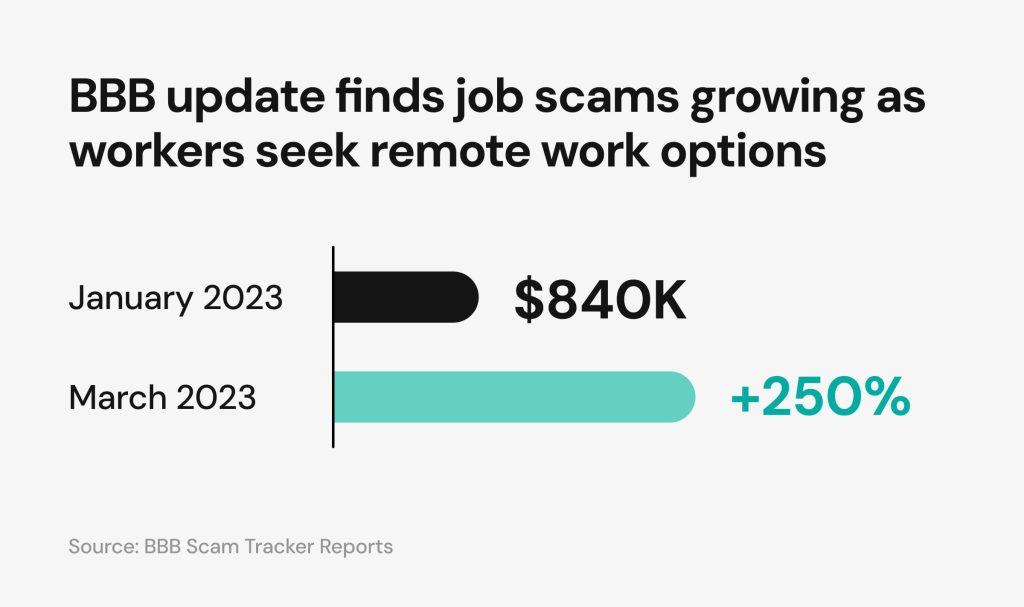 This kind of scam targets people who are looking for work. Scammers may learn your employment history from job boards, data brokers, and social media accounts. They will impersonate a recruiter from a well-known company and convince you to go through the interview process.
Identity theft is usually the goal of this scam. You will have to send your Social Security number and other sensitive data to the recruiter to apply for the job. By the time you find out the recruiter wasn't real, they already have enough details to steal your identity and impersonate you.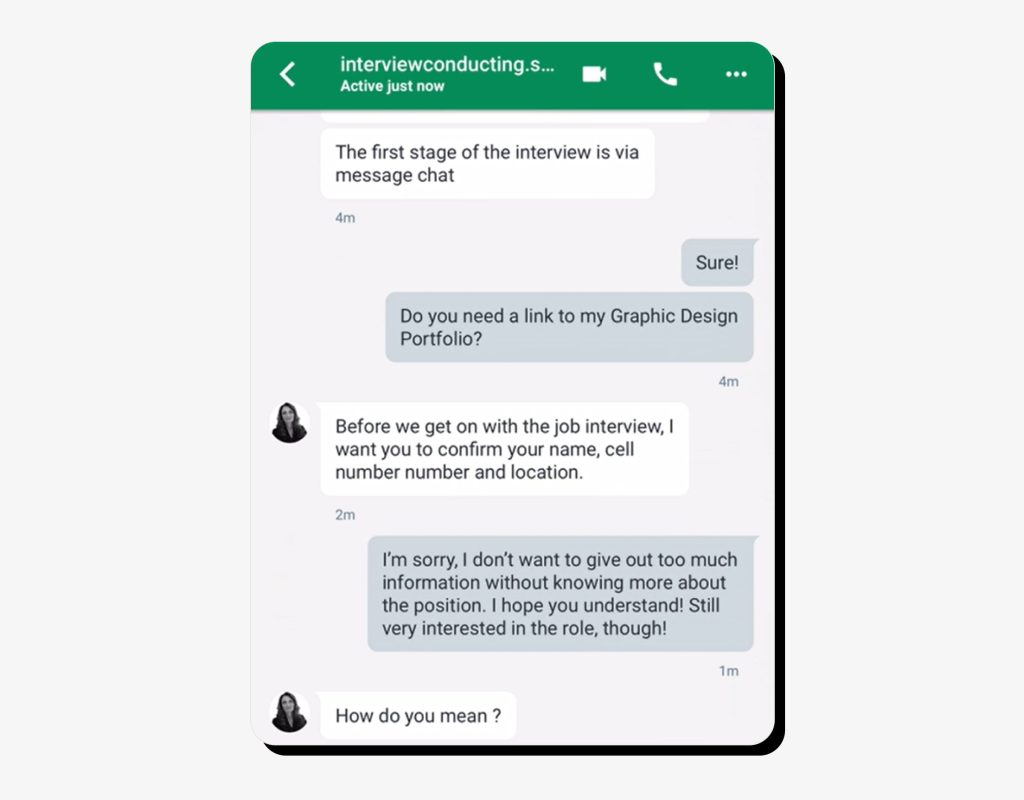 Blackmail scams
Blackmail scammers try to extort victims by threatening to release sensitive data unless paid. These scams happen frequently in the world of online dating, but they can also occur to people who have never signed up for dating sites at all.
Sometimes scammers try to blackmail victims by claiming to have proof of illegal activity. They may warn you that your computer is storing child pornography or terrorist propaganda, and offer to help remove it for a fee.
The important thing to remember is that scammers don't need to actually have the data, photos, or proof they're talking about. They only need to convince you that they do. In many cases, this is an empty threat that they can't deliver on.
Fake giveaway scams
Giveaway scams usually revolve around a well-known company like Apple or Amazon, or a celebrity like Elon Musk. Scammers will reach out to people on Google Chat and tell them that they've won a prize associated with a reputable company or individual.
In order to receive the prize, you must provide personal or financial information of some kind. You may even need to pay a fee so that the price can be "processed", or pay taxes to an official-sounding organization.
If you don't remember entering into a contest or sweepstakes, you can be certain the prize is a scam. There is no contest and the organization hosting it probably doesn't exist.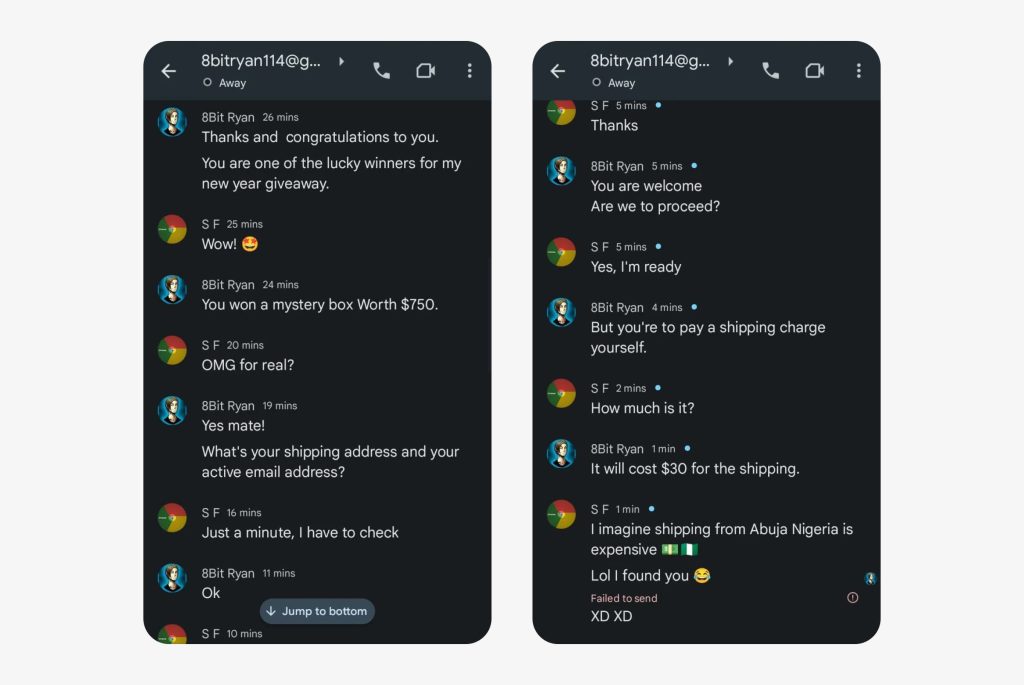 Social engineering scams
Social engineering scams include a broad collection of tricks designed to convince you to send money or sensitive data to scammers. Although they may use many different tactics, they all have one thing in common – scammers impersonating someone you know.
For example, a social engineering scammer may impersonate a work colleague or an acquaintance you're connected to on social media. They may leave you a quick message designed to pique your curiosity, often pointing you toward a link.
In most cases, clicking on the link will take you to a spoofed website or immediately start downloading malware. This allows scammers to get your login credentials and use that data to hack your devices.
Sextortion scams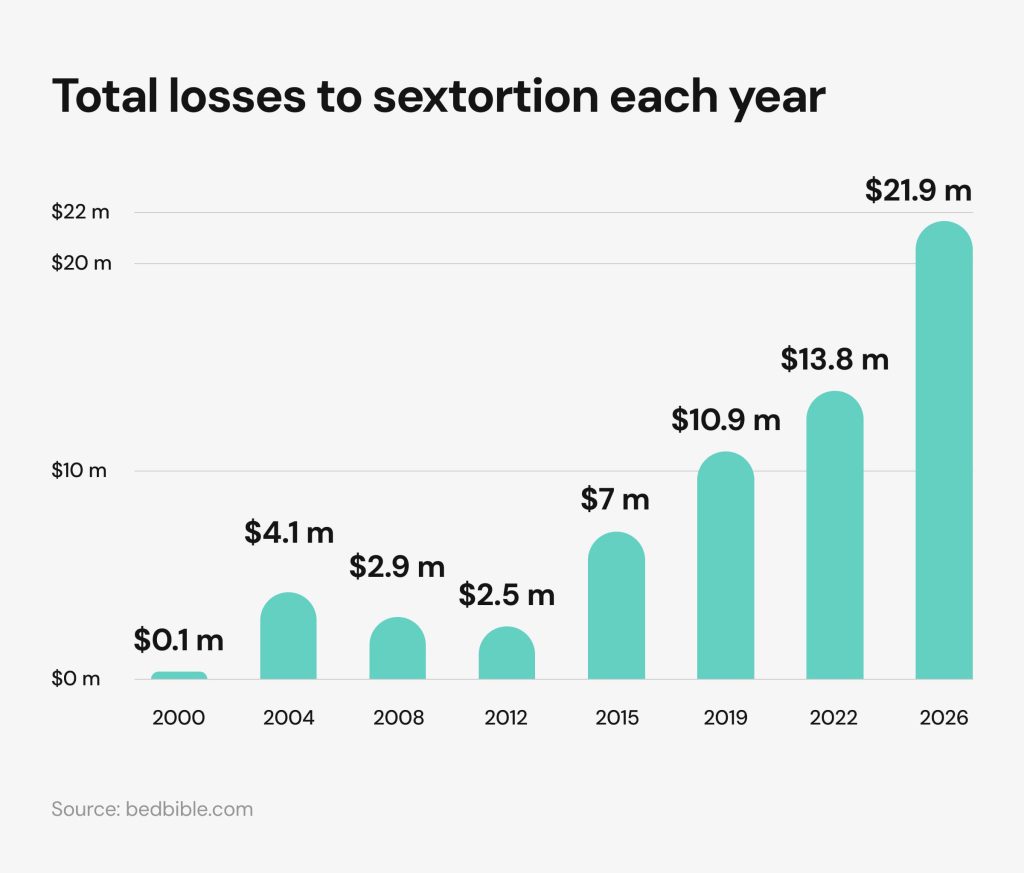 These are blackmail scams often combined with romance scams – although sextortion attempts can also come from complete strangers. In a typical sextortion scam, a hacker threatens to publish inappropriate photos or videos of you online (or send them to friends and family members) unless you pay them.
Google Chat doesn't allow users to delete chat history, which makes it particularly attractive to sextortion scammers. If you sent sensitive images or videos to someone through Google Chat, you may not be able to remove them.
However, even if you've never taken explicit photos of yourself, hackers can still carry out an attack. They might use AI-equipped photo editors to attach your face to someone else's body and threaten you anyway.

Technical support scams
Tech support scammers exist on every popular platform, and Google Chat is no different. This kind of scam is well-suited to Google Chat because it's easy for a scammer to credibly impersonate a Google employee on the platform.
This kind of scam can start in many different ways. Sometimes the scammer reaches out and tells you that your device is infected, and that Google can clean or repair it for a fee. In other cases, hackers may actually infect your device with malware first and then reach out to tell you they can fix the problem.
Always remember that legitimate companies like Google won't contact you through their own app to tell you about viruses on your device. If you didn't submit a support ticket to an IT team for assistance with a specific problem, you can safely ignore anyone who contacts you claiming to work for a technical support team.
How to identify Google Chat scams
The typical Google chat scam involves a few key steps, and many of them share similar characteristics and red flags.
First, the scammer usually reaches out on another platform. They might contact you using your favorite social media platform or dating app. These apps generally have more users than Google Chat does, which makes it easier for scammers to research their victims before acting.
Depending on the type of scam, the initial contact may be a friend request or an expression of interest in online dating. It may be a job offer or an investment opportunity, as well.
In some cases, the scammer reaches out directly on Google Chat. This usually takes the form of an "accidental" request or a message without context. If you're curious enough to respond, the scammer will begin the next phase of their plan – the scam itself.
Some of the tell-tale signs of a Google Chat scam include:
Requesting money to help with urgent expenses.
Asking you to prove your loyalty by sending gifts.
Asking you to send photos or other sensitive information.
Using high-pressure tactics to keep you from thinking critically.
Writing with unusual grammar or consistent spelling errors.
Unexpected communications and unsolicited messages.
Inconsistent answers and hard-to-believe stories.
Google Chat scammers can show extraordinary patience before demanding their victim send money. Romance scammers, in particular, may spend weeks or months building trust with you, going on digital dates through video chat, and more.
Some fraudsters may skip this step and simply send you an attachment or link to click on and trick you into downloading malware that can give them control over your device or grant them access to your accounts.
Preventing Google Chat scams
The steps to prevent Google chat scams are similar to the ones on other chats and messaging apps. Follow these guidelines to protect yourself:
Don't reuse your Google password on other accounts, and make sure all of your passwords contain a combination of upper and lowercase letters, numbers, and punctuation points.
Enable two-factor authentication (2FA) on your Google account and every device that supports the feature.
Never send money or gift cards to people you talk to on Google Chat. Whenever someone asks to be paid for anything using gift cards from popular platforms and stores, it's a scam.
Avoid clicking on links sent to you over Google Chat, especially from people you don't trust.
Turn on chat history to record your conversations. This will help if you need to report a scam later.
Never send explicit images or messages as you won't be able to clear the chat history later.
Following these rules will make you a much harder target for the vast majority of Google Chat and Google Hangouts app scams. There is no way to prevent 100% of all fraud attempts, but you will reliably prevent the most common scams and avoid becoming a victim.
Staying safe on Google Chat
Practicing good cyber hygiene will protect you from the majority of Google Chat scams. You should take care to protect your entire online identity and make it much harder for scammers to target you successfully. Here are some general safety tips you should follow:
Stop the exposure of your personal information by data brokers and people-search websites like MyLife, Whitepages, and BeenVerified. These spammy sites are an invaluable tool for criminals seeking to impersonate you and learn how to gain your trust. They collect your personal data from public records and other sources, publish your profiles, and sell background reports packed with your sensitive details to anyone interested. There are hundreds of data brokers out there and removing your profiles on your own is a time-consuming and overwhelming endeavor since each site has unique opt-out requirements. Consider using Onerep to automate the opt-out process: we remove your personal information from 199 websites and continuously monitor them afterward to ensure your profiles aren't republished.
Improve your social media privacy – scammers comb through your social media accounts and look for data in your photos, bio descriptions, and public posts. Even such basic details as geotags and phone numbers can be used against you. Besides making your accounts private, a crucial measure is avoiding sharing any personal information whatsoever.
Be cautious while interacting online – don't respond to unsolicited contact from people you don't know. If possible, verify new connections and make sure they real people with clear intentions.
Avoid romance scams by conducting due diligence on people you meet online. Ask them questions and verify their answers if you can.
Don't take photos of your credit cards or bank statements. If someone gains access to your credit card details, you are at risk of falling prey to identity theft.
Reverse image search profile photos of strangers to detect photos stolen from social media or stock sites.
Be wary of accounts of famous companies and individuals. It's unlikely they would use Google Chat.
Reporting Google Chat scams
If you do accidentally reveal sensitive information to a scammer, you should secure your accounts as quickly as possible. Change your passwords and scan your devices for malware before connecting back online.
Scammers may immediately try to hack you, or they may wait before making the attempt. You may need to continuously verify your accounts and practice strict cyber hygiene to keep yourself safe.
It's possible that your information ends up in the hands of multiple scammers over time. You may wish to monitor your accounts or even freeze your credit before filing a report.
You can report Google Chat scams to Google directly through the application. Google may ask you to fill out a form describing the scam. Be comprehensive when responding and include screenshots if you can. This will help Google prevent future scams.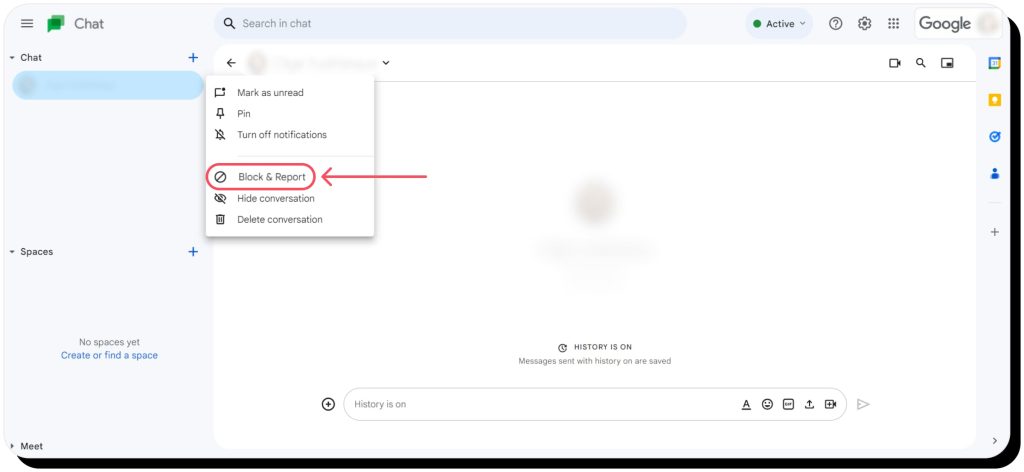 When you report someone, you will also block them. Blocked Google Chat users can't send messages to one another. If you are in a Google Workspace together, the blocked contact will still see when you're online. Even though you won't be able to send new messages, Google will save your old ones in the chat. Neither you nor your blocked contact can edit or delete these messages.
If you sent sensitive personal data to a scammer, you may need to report it to the Federal Trade Commission on its official website IdentityTheft.gov. This will help you dispute fraudulent charges and close compromised financial accounts without paying enormous fines.
FAQ
Do scammers use Google Chat?

Yes, scammers use Google Chat the same way they use other messaging apps and social media platforms. Google Chat users need to be careful when connecting with people they don't know personally, and avoid sending money or sensitive information to people they met online.
How do you know if you are chatting with a scammer?

Scammers will often invent urgent scenarios that require your help immediately. They may need money to help a sick or injured friend, or they may claim to have inheritance money they are at risk of losing. If you refuse, they will become insistent and steer every conversation back to their need for help.
Can someone hack me through Google Chat?

Yes. Google's IT infrastructure is secure, but Google Chat scammers rarely rely on technical exploits when targeting victims. Most Google Chat scams rely on phishing, social engineering, and other exploits that depend on you building a relationship of trust with a scammer.
What will a scammer ask from you?

Most scams are financially motivated. Scammers will either ask for money directly, or they will ask for sensitive information they can use to steal your identity. Once they have the ability to impersonate you, they can take out loans from banks and spend the money freely. When the bank finds out about the fraud, it will blame you.
What are common scammer phrases?

The most common story scammers use to deceive victims is that someone they know is hurt, sick, or in jail. Scammers may also lie about teaching victims to invest, needing help with an important delivery, or working for the military overseas. Investment scammers may claim to have inherited money or gold that they need help securing.
How do I find someone on Google Chat?

You can send messages to anyone in your Gmail contacts list through Google Chat. If they use Google Chat, they will see the message directly. If you want to add someone new to your contacts list, you can send them an invitation directly through Google Chat. Click on Add People and type in their name or email address.
Can Google Chat show your location?

Google Chat does not automatically show user locations to contacts. The only way to share your location with someone in Google Chat is to use the Share Location feature in Google Maps. If you don't use this feature, nobody on Google Chat can see your location through the platform.