Published October 21, 2022
read
Why you should opt out of Radaris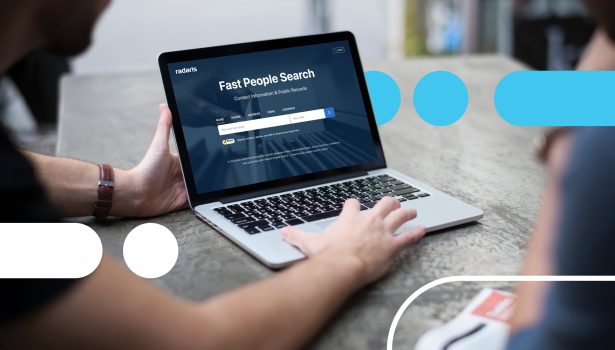 We post, share, and volunteer so many personal details that, in just a few clicks, we can find information on just about anybody, anywhere. That's why it's important you are aware of major data brokers in the business of collecting and selling your information and know how to opt out of them. In this article, we're introducing you to one such player. Please meet – Radaris.
Quick takeaway: you should complete a Radaris opt-out
Sites like Radaris pose a serious threat to anyone who cares about their privacy. There's no reason your personal information should be within arm's reach of people with all kinds of intentions, including spammers, scammers, identity thieves, and stalkers. If you're wondering how to opt out of Radaris, check out our free Radaris opt-out guide — or use Onerep to automatically remove yourself from over one hundred data brokers.
OPT-OUT REQUIREMENTS AT-A-GLANCE
Opt-out timeframe: 48 hours
Request should take: 15 minutes
Requires an email address: Yes
Requires CAPTCHA: Yes
Requires phone number: No
Requires a copy of ID: No
Online or mailed request: Online
Overall difficulty: Moderate
What, exactly, is Radaris?
Radaris is a data broker, also known as a people-search site. This website collects, compiles, and sells in-depth digital reports. Of course, that's not how they describe themselves. According to Radaris' website, they're a "universal people directory and information indexing system" which helps its users find information about individuals. Sounds good, but they're compromising peoples' privacy in the process.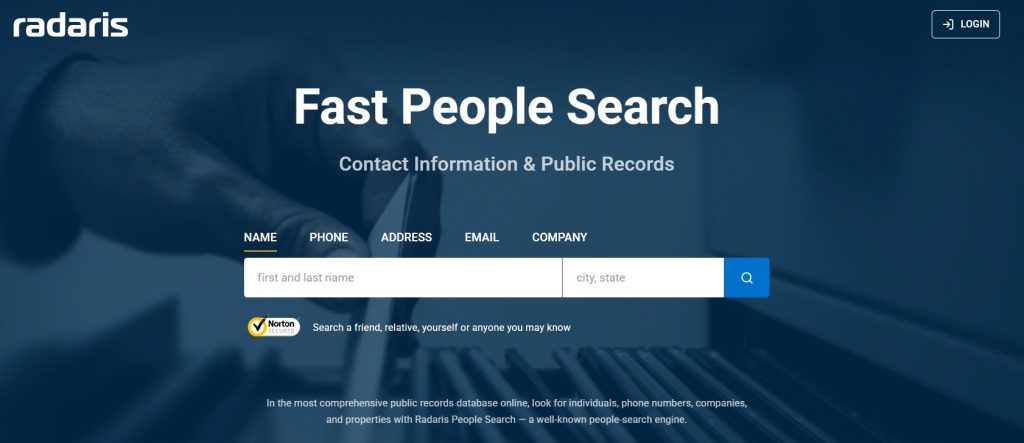 While there are over a hundred people-search engines on the web, there's only a handful of major players. Radaris is certainly one of them. With more than 9 million monthly visitors and over 10 years of experience, Radaris has evolved into a powerful engine with quite an impressive database. The website provides access to 594 million people, 183 million unique names, 224 million phone numbers, 110 million property records, 63 million business records, and 5 million streets across the US.
Who owns Radaris?
There's not much information on the origin of Radaris, but some sources like Owler and AllBiz suggest that the company's CEO Gary Norden was also its founder, opening up the company in Newton, MA back in 2011.
Radaris quick links
For your convenience, here we have compiled the most important links on the Radaris website. If you would like to contact the site directly or read their privacy policy, just use the list below.
What is Radaris used for?
Radaris is a massive people-search engine for finding information about people, properties, phone numbers, businesses, and addresses. While most people see data brokers as exploitative companies, some common reasons people use their services legitimately include:
Finding a long-lost friend or family member
Researching a business partner
Locating an unknown caller
Verifying an online date
Running a background search on a new neighbor
Of course, this information can be useful, but there is also a darker side to private information business. Data brokers sell data to literally anyone willing to pay a few bucks for access, which means your info could end up in the hands of aggressive advertisers and marketers, insurance brokers, real estate agents, and worse – fraudsters, identity thieves, online harassers, doxxers, swatters and stalkers.
How does Radaris gather your private information?
Radaris uses public records to build its database. Here are a few common sources that they pull data from:
Phone directories
Social media accounts
Email databases
Property records
Local government records
Business directories
Networking sites
Court records
Certification records
User publications & comments
Voter records
Banking services
Radaris applies different technologies when it comes to collecting and packaging data, including purchasing information from marketing databases, crawling the Internet for free content indexed by search engines, and even exchanging data with similar data broker sites like Spokeo, PeopleFinders, Intelius and many others. Additionally, Radaris can send its representatives to government institutions and courthouses in order to hunt down information that's not accessible online.
What personal information does Radaris gather?
Radaris synthesizes personal information into digital reports that can be sold. Among other things, these reports include:
Names and aliases
Dates of birth
Past & current addresses
Past & current phone numbers
Social media accounts and usernames
Profile pictures
Affiliates (partners, roommates, associates)
Marriage and divorce records
Workplace records
Education records & professional licenses
Email addresses
Bankruptcy filings
Property info
Arrest records
Traffic tickets
Liens
Judgments
Evictions
How do people use Radaris to find your information?
There are five basic search options provided by Radaris:
Name Search
Reverse Phone Lookup
Address Search
Email Search
Company Search
To perform a Name Search, one simply enters an individual's first and last name, as well as a city, state, or ZIP code to narrow down the results.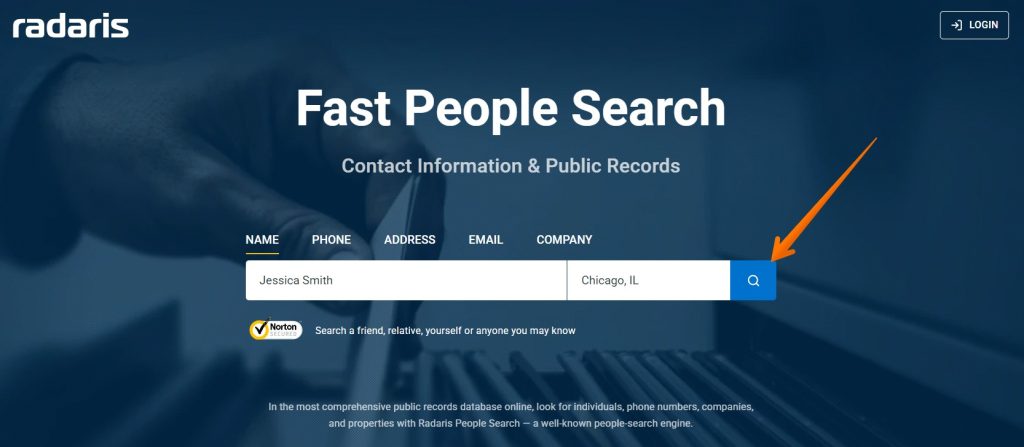 A quick search like this can reveal a bunch of private details, including your age, aliases, relatives, past and present locations that can be used by anyone, identity thieves included.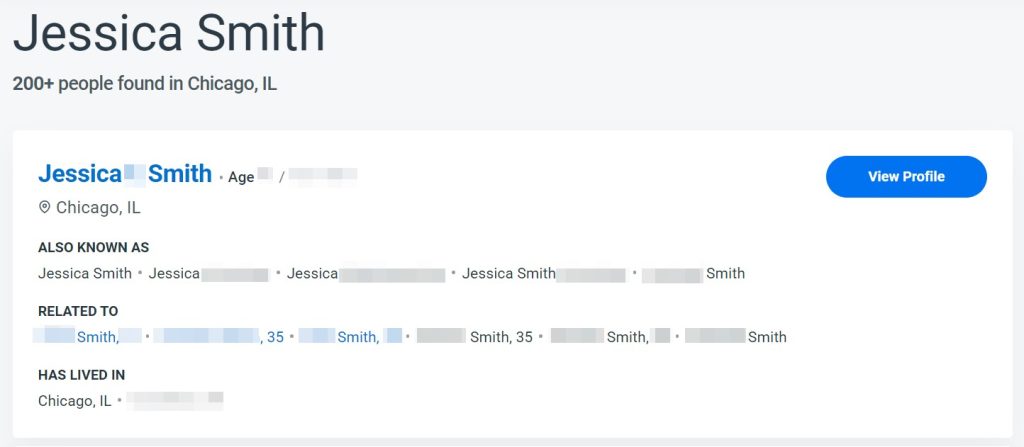 For Address Searches & Property Information, Radaris partners with Homemetry, a popular website that aggregates real estate and property information for individual addresses. This includes extensive owner and resident information such as names, phone numbers, age, employment information, home values, sales history, neighborhood information, taxes, etc.
To perform an address search on Radaris, all one needs is a correct address. Below is what the results of an address search look like. What's the danger? This information can potentially be interesting to nosy realtors and real estate people, neighbors and even burglars.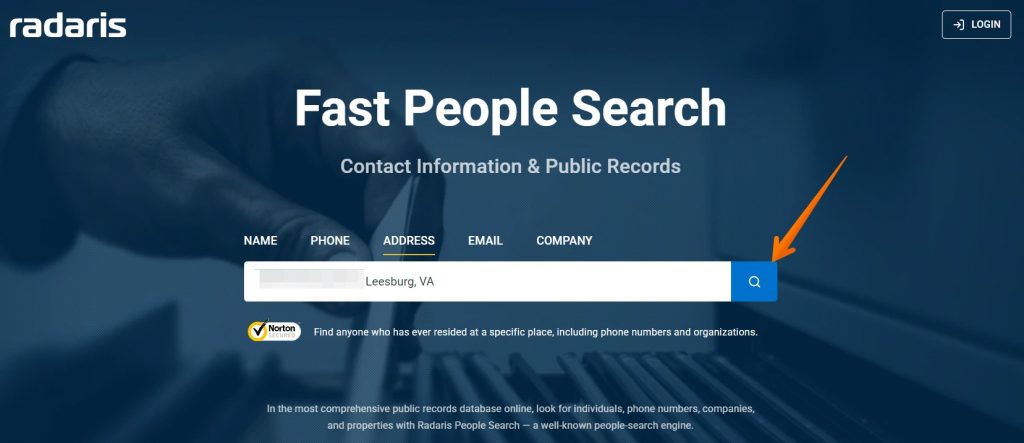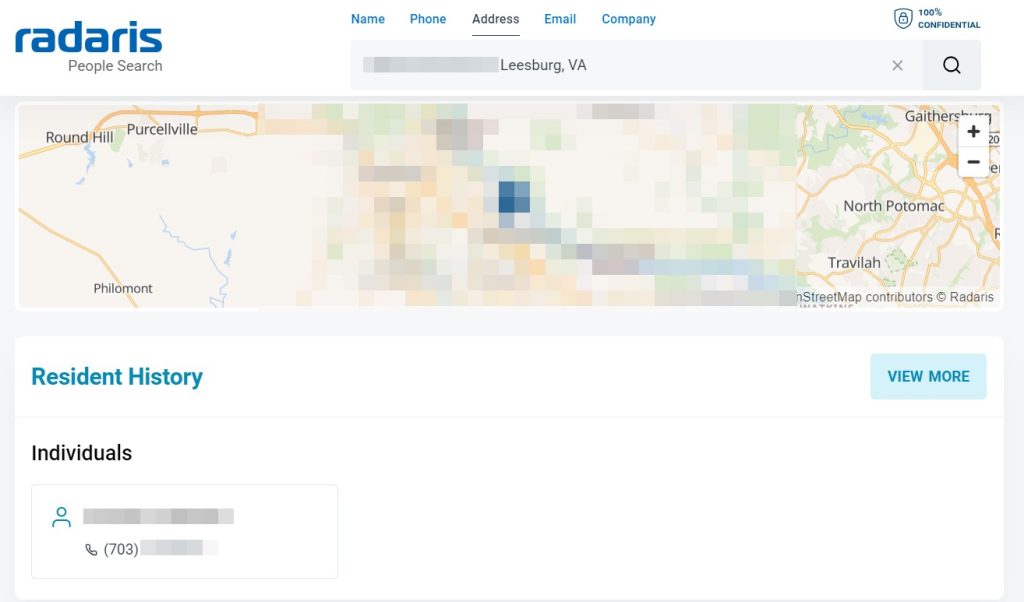 To perform a Company Search, enter a business name and a state. Then Radaris redirects you to Bizstanding.com, an online business directory that includes data about businesses such as addresses, phone numbers, industry, year of foundation, company size, registration date and number, state ID, and many more. This information is also packaged into a digital business background report and can be purchased by anyone in a matter of a few clicks.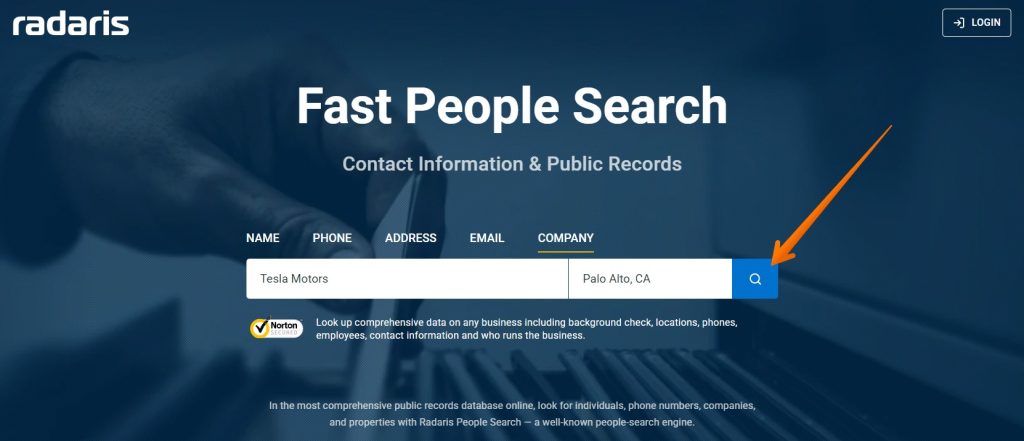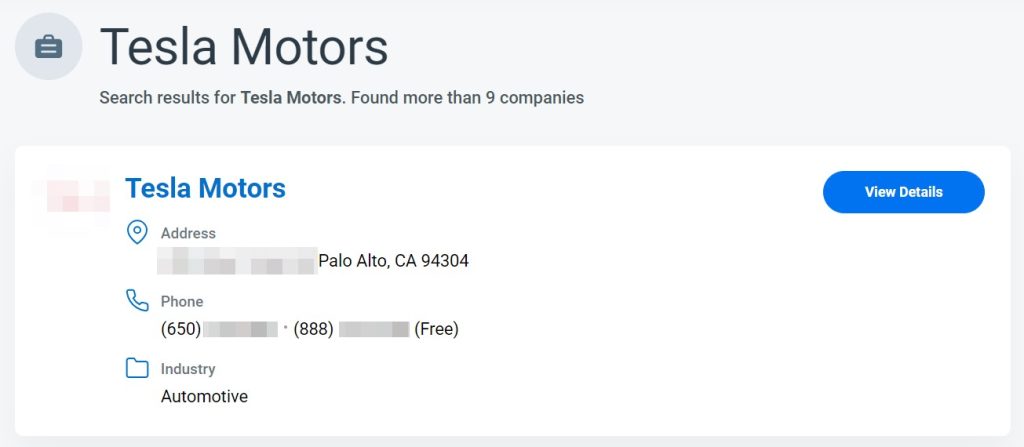 For Phone Lookups, you simply provide a phone number. This query pings off the same Radaris database and displays basic information about a phone number owner such as owner name, address, email, title, organization, etc. Why bother? You become an easy target for telemarketers and phone scammers.

Is Radaris free?
While basic searches on Radaris are free, currently the website offers several options for acquiring people-search records. These are:
The One Month Membership for the price of $26.95 with an automatic renewal of an unlimited number of background reports.
The Three Month Membership for the price of $63.95 total or $21.31 per month. The plan offers an unlimited number of background reports and renews automatically every three months.
$19.95 for a single report.
Is Radaris legit?
This might seem incredibly intrusive, and it is. But technically, Radaris is completely legal. According to the Freedom of Information Act (FOIA) and other Federal open records laws, everyone is entitled to free access to government documents and public records across the US, data brokers included. They exploit this fundamental right to invade privacy and sell tons of personal data, which is, at minimum, a privacy concern. While you can't hide your public records used by these sites to build their databases, you can and should remove your information from them if you want to keep private and stay out of trouble.
Is Radaris safe?
This is much harder to answer. Radaris is safe in the sense that you can browse it without worrying about malware or scams. However, sites like Radaris can put you, your family, reputation and your business at risk of real online and offline threats.
Radaris reviews
According to The Better Business Bureau (BBB)'s listing, Radaris doesn't appear to be a very honest or reliable company.
Despite years in the game, they've never been BBB accredited, and they have 17 complaints over the last three years. The majority of them share the following patterns:
Radaris is non-responsive to user opt-out requests
The website has poor customer service
Here are a few testimonials from dissatisfied customers of Radaris:
"I've emailed them asking them to remove me and they gave me the runaround. I will not give them my cell phone number. Terrible people.
"… Don't delete personal information after three written requests!"
What other data broker sites have my information?
Sorry to break it to you, but Radaris isn't the whole story. Even after removing your data from Radaris, you still have to worry about dozens of other sites, each with their own complicated and tedious opt-out process. Some sites even require phone calls and physical document mailing to complete an opt-out request.
We made Onerep to automate this process, but if you want to take the hands-on approach, here are a few more opt-out guides:
How to automatically remove yourself from 199 data brokers
No, you don't really have to opt out of every people-search site one at a time. If you want to get your personal information out of reach of bad actors, and anyone else on the internet, then you can use Onerep.
We'll automatically opt you out of over one hundred data broker sites — including major players like Radaris and plenty of smaller sites. Onerep is the most comprehensive, transparent, and affordable way to protect your information on the internet. Sign up so you can rest easy knowing that your digital footprint is finally under control.